Academic Childrens Hospital Nuremberg
Department of Pediatric Pulmonology and Allergology (

444920

)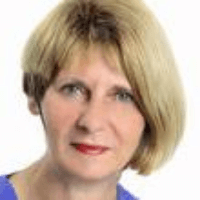 Dr. med.
Heidemarie Schirmer-Zimmermann
Specialized in: pediatric pulmonology, allergology
About the department
The Department of Pediatric Pulmonology and Allergology at the Academic Childrens Hospital Nuremberg offers the full range of diagnostics and treatment of lung, respiratory and allergic diseases in children of all age groups. The doctors of the department apply in their practice the very latest methods of pulmonary function testing, testing for detecting allergic reactions, which makes it possible to make an accurate diagnosis and prescribe an effective course of treatment. The Chief Physician of the department is Dr. med. Heidemarie Schirmer-Zimmermann.
The most common pediatric pulmonological diseases include:
Bronchitis

Acute bronchitis (mainly in children aged one year)
Recurrent bronchitis (at least 3 exacerbations of the disease during the year)
Chronic bronchitis (cough with expectoration for at least 3 months per year)

Pneumonia (lung inflammation)

Single and double pneumonia
Focal pneumonia (with inflammation sites reaching 1 cm or more)
Segmental pneumonia (inflammation spreads to the entire segment)
Confluent pneumonia (the process affects several segments)
Lobar pneumonia (inflammation is localized in one of the lobes: the upper or lower lobe of the lung)

Bronchial asthma
Other diseases of the respiratory system
In the field of pediatric allergology, many highly effective allergic tests are offered, for example, an allergy test for cow milk in infants (after the formation of the immune system). Also, doctors often use rapid hyposensitization to treat allergies to the poison from the bite of bees or wasps, which helps to protect the body from an allergic reaction in the subsequent contacts with these insects.
Photo of the doctor: (c) Klinik Hallerwiese-Cnopfsche Kinderklinik
Department of Pediatric Pulmonology and Allergology.
Academic Childrens Hospital Nuremberg:

Request more information now.
We will be happy to answer all your questions.
---