Academic Hospital Asklepios Barmbek Hamburg
Department of Gastroenterology (

356099

)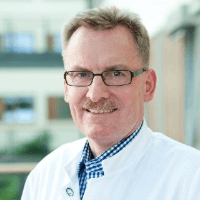 Prof. Dr. med.
Siegbert Faiss
Specialized in: gastroenterology
About the department
The Department of Gastroenterology at the Academic Hospital Asklepios Barmbek offers the full range of services in this focus. The medical team of the department specializes in the treatment of all kinds of benign and malignant diseases of the gastrointestinal tract (esophagus, stomach, small and large intestine, pancreas, liver and bile ducts). The department has a unique experience in the field of interventional endoscopy. The department is headed by Hon. Prof. Dr. med. Siegbert Faiss.
The key to successful treatment is accurate diagnosis. The department has all state-of-the-art diagnostic methods: endoscopy, ultrasound, endosonography, computed tomography, magnetic resonance imaging and many others.
The treatment of gastrointestinal tumors is provided in cooperation with the Department of General and Abdominal Surgery, the Department of Oncology. The treatment plan is developed individually with due consideration of the type, localization, size and spread of the tumor, as well as the overall health of the patient and the availability of concomitant diseases. In the early stages of the disease, in many cases doctors perform endoscopic surgery. The department offers a new method – endoscopic submucosal dissection (ESD), which allows for a safe removal of small tumors and complete preservation of the affected organ. The progressive stages of cancer require surgical treatment, which is often accompanied by chemotherapy and radiation therapy. To avoid relapse after surgery, the patient should undergo regular check-ups.
Gastrointestinal diseases can also be treated by means of conservative methods. For example, for the treatment of chronic inflammatory bowel disease drug therapy is used. However, sometimes inflammatory bowel diseases can cause complications, such as bleeding, bloating or abscesses. In such cases, surgical intervention is required.
In addition, the department's scope of tasks include both diagnosis and treatment of gallstones and bile duct stones. The therapeutic options of the department in this field include pain therapy, endoscopic and surgical removal of stones. In the surgical removal of stones, the keyhole technique is applied. During the intervention, the surgeon makes only small incisions, and therefore the patient retains minimal scars. A great advantage is the rapid recovery of the patient.
The range of medical services of the department includes both diagnostics and treatment of the following diseases:
Benign and malignant diseases of the gastrointestinal tract
Heartburn
Reflux esophagitis
Gastritis
Gastric and colon polyps
Ulcer
Irritable bowel syndrome
Upset stomach
Gallbladder and bile duct stones
Inflammatory bowel disease (e.g., Crohn's disease, ulcerative colitis)
Acute and chronic liver disease (all forms of hepatitis, cirrhosis)
Acute and chronic pancreatic diseases
And many other diseases
Curriculum vitae
1996 Medical Specialist in Internal and General Medicine.
2005 Medical Specialist in Internal and General Medicine.
1996 Medical Specialist in Gastroenterology.
2005 Medical Specialist in Gastroenterology.
Photo of the doctor: (c) Asklepios Klinik Barmbek
Department of Gastroenterology.
Academic Hospital Asklepios Barmbek Hamburg:

Request more information now.
We will be happy to answer all your questions.
---