Academic Hospital Asklepios Barmbek Hamburg
Department of Cardiology (

356106

)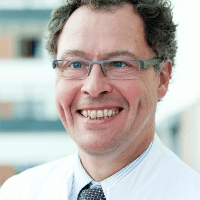 PD Dr. med.
Gerian Grönefeld
Specialized in: cardiology
About the Department of Cardiology at Academic Hospital Asklepios Barmbek Hamburg
The Department of Cardiology at the Academic Hospital Asklepios Barmbek offers the full range of services in this field. It provides high-quality diagnostics and treatment of cardiovascular diseases, pathologies of large vessels and all internal comorbidities. Patients with heart attacks are provided with round-the-clock medical care. Also, the scope of the department's tasks includes the implantation of pacemakers and defibrillators. The department is headed by PD Dr. med. Gerian Grönefeld.
To provide a high-precision and effective diagnostics, which often allows to avoid open surgical interventions on the heart, the department is equipped with the state-of-the-art medical equipment. There can be performed CT, MRI, ultrasound of the heart, fractional flow reserve measurement, intravascular ultrasound, echocardiography, diagnostics of syncopes (orthostatic test, implantable ECG recorder) and many other examinations.
A special department's offer is heart catheterization through a venous or arterial blood vessel in the wrist or inguinal area. Both methods allow for a complete provision of coronary arteries, including dilatation of vessels (balloon dilatation) and stent implantation. In certain clinical pictures, these methods help avoid coronary artery bypass grafting – an operation with the chest opening.
Also, the department performs the implantation of a cardioverter-defibrillator. The intervention does not refer to major surgeries and is performed under local anesthesia. As a rule, this treatment method is prescribed for patients with life-threatening heart rhythm disorders (ventricular tachycardia or ventricular fibrillation) and for patients with the severely impaired heart pump function (e.g., extensive myocardial infarction).
The department's range of services also includes both implantation and replacement of pacemakers. Usually, the interventions are not particularly difficult and are performed under local anesthesia. At the patient's request and indications, the operation can be performed on an outpatient basis. In severely impaired heart pump function and in the blockade of the posterior left bundle branch, the specialists of the department perform cardiac resynchronization therapy.
In addition, the department offers intracoronary stem cell therapy. This is a new method of treatment that supplements standard medical therapy, for example, to improve the muscle strength of the heart after a heart attack. This therapy helps to avoid hospitalization and increase physical performance in everyday life. Numerous clinical studies confirm a high effectiveness of this method.
It also treats septal defects namely a patent foramen ovale and an atrial septal defect. In severe forms of the pathology, the experienced surgical surgeons perform extensive surgical intervention. Nevertheless, modern catheterization methods allow doctors to close septal defects without any major interventions.
The range of medical services of the department includes:
Cardiac catheterization
Implantable cardioverter defibrillator (ICD)
Pacemaker implantation and replacement
Coronary artery bypass surgery
Intracoronary stem cell therapy
Cardiac resynchronization therapy
Closure of the patent foramen ovale and atrial septal defect
And many other therapeutic options
Curriculum vitae of PD Dr. med. Gerian Grönefeld
Study of Medicine at the University of Hamburg, Doctor of Medicine (M.D.)
1981 – 1983 Outpatient Nursing /Civilian Service, Caritas Association Cologne, Cologne/Bonn
1990 – 1991 Assistant Physician, Hospital of the Main-Taunus district, Hofheim, Hesse
2002 – 2005 Senior Physician, University Hospital Frankfurt am Main
Since 11/2005 Head of the Department of Cardiology, Academic Hospital Asklepios, Barmbek Hamburg
Photo of the doctor: (c) Asklepios Klinik Barmbek
Department of Cardiology.
Academic Hospital Asklepios Barmbek Hamburg:

Request more information now.
We will be happy to answer all your questions.
---