Academic Hospital Asklepios Barmbek Hamburg
Department of Orthopedics and Trauma Surgery (

356113

)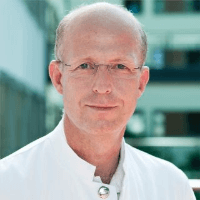 Dr. med.
Ralf Gütschow
Specialized in: orthopedics, trauma surgery
About the department
The Department of Orthopedics and Trauma Surgery at Academic Teaching Hospital Asklepios Barmbek offers the full range of services in these medical fields. The department specializes in the treatment of injuries of the musculoskeletal system, spine, pelvis, as well as the treatment of diseases and injuries of the joints. Medical services are available around the clock. The department is headed by Dr. med. Ralf Gütschow.
In the field of spinal diseases, much attention is paid to the treatment of vertebral fractures. To treat such injuries, the department performs spinal fusion. Today, this intervention is performed minimally invasively, through small incisions, under the control of imaging systems, which ensures high accuracy and safety.
Another alternative for the treatment of vertebral fractures is balloon kyphoplasty. This operation is used to treat fractures in osteoporosis (in most cases in the elderly). Such fractures cause severe pain, and therefore the goal of the operation is to eliminate it.
The medical team of the department provides treatment for injuries and fractures of the pelvic bones, arms, legs, injuries of the meniscus and cruciate ligament. Depending on the severity of the injury, the patient is prescribed optimal surgical intervention, which should be followed by a rehabilitation period.
In the field of sports traumatology, the most common clinical pictures are injuries of the and knee, shoulder and Achilles tendon.
In addition, the department's scope of tasks includes endoprosthetics of the hip, knee and shoulder joint. Operations to replace joints are performed by highly skilled, experienced surgeons. The department uses only high-quality endoprostheses of well-known manufacturers.
The range of medical services of the department includes the diagnostics and treatment of the following injuries:
Vertebral fractures
Fractures of the arms
Fractures of the legs
Pelvic injuries
Injuries to the meniscus and cruciate ligament
Sports injuries
Occupational injuries
Knee, hip and shoulder joint replacement
Chronic wounds
Correction of varus and valgus deformities of the legs
And many other injuries
Photo of the doctor: (c) Asklepios Klinik Barmbek
Department of Orthopedics and Trauma Surgery.
Academic Hospital Asklepios Barmbek Hamburg:

Request more information now.
We will be happy to answer all your questions.
---