Academic Hospital Cologne-Merheim
Department of Radiation Therapy (

274440

)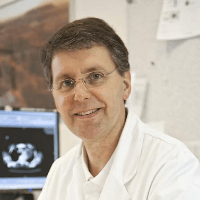 Dr. med.
Eckhard Ingenhoff
Specialized in: radiation therapy
About the Department of Radiation Therapy at Academic Hospital Cologne-Merheim
The Department of Radiation Therapy at the Academic Hospital Cologne-Merheim offers all types of modern radiation therapy at the highest level. The department has two high-power Elekta Synergy linear accelerators and a device for the therapy using afterloading technique. The irradiation regimen is planned using Toshiba Aquilion Large Bore computed tomography scanner with the gantry aperture of 90 cm. The combined chemoradiation therapy can also be carried out in collaboration with relevant specialists. In most cases, radiation therapy is performed on an outpatient basis, without obligatory hospitalization. The team of the department's doctors strictly adheres to all radiation protection standards. The department is headed by Dr. med. Eckhard Ingenhoff.
The competence of the department's doctors includes the treatment of malignant and benign diseases. When treating oncopathologies, the doctors maintain close cooperation with the specialized centers, such as the Colon Cancer Center, the Breast Center, the Lung Cancer Center and the Cancer Center. The specialists of the department mostly deal with the treatment of patients with lung, breast, gastrointestinal cancers, brain tumors, head and neck tumors, genital tumors in women and men.
The department offers all modern types of radiation, including intensity-modulated radiation therapy, image-guided radiation therapy, brachytherapy and stereotaxy. In addition, the department conducts deep inspiration breath-hold, for example, in case of cancer of the left breast. A wide variety of available radiation therapy methods makes it possible to combine different types of radiation and achieve optimal treatment results.
The patients receive medical care from a highly motivated, specially trained team of professionals for working with cancer patients, which includes technical assistants, doctors and physicists.
The main focuses of the department's clinical practice include:
External radiation therapy
Internal radiation therapy (brachytherapy) with a focus on temporary high-dose brachytherapy

Single brachytherapy procedure after organ-preserving surgery for breast cancer
Brachytherapy for head and neck tumors, sarcomas
Afterloading radiation therapy for uterine and cervical cancer, vaginal tumors
Brachytherapy for the treatment of keloid scars
Relapse treatment after previous courses of therapy
Image-guided brachytherapy for lung and esophageal tumors

Intensity-modulated radiation therapy
Image-guided radiation therapy
Stereotaxy
Other types of irradiation
Photo of the doctor: (c) Kliniken der Stadt Köln gGmbH
Department of Radiation Therapy.
Academic Hospital Cologne-Merheim:

Request more information now.
We will be happy to answer all your questions.
---
Certificates