Academic Hospital Cologne-Merheim
Department of Cardiology, Angiology and Diabetology (

292224

)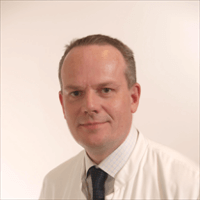 Prof. Dr. med.
Axel Meissner
Specialized in: cardiology, angiology, diabetology
About the department
The Department of Cardiology, Angiology and Diabetology at the Academic Hospital Cologne-Merheim offers all the options of modern medicine in these fields. The department specializes in the interventional treatment of heart valve pathologies, diagnostics and treatment of arrhythmias, emergency care in acute coronary syndrome, non-invasive methods of cardiovascular imaging, diagnostics and treatment of vascular diseases, as well as the treatment of diabetes mellitus. The department is headed by Prof. Dr. med. Axel Meissner.
The clinical activities of the department's competent team of doctors are based on the use of innovative treatment methods and an individual approach to each patient, which contributes to excellent results. If necessary, the experts in nephrology, gastroenterology, pulmonology, radiology, neurology and vascular surgery can be involved in the therapeutic process. Thanks to this, the patients receive comprehensive treatment, taking into account all the medical nuances.
The department's range of medical services includes:
Cardiology

Diagnostics

Left heart catheterization (contrast-enhanced invasive imaging of coronary arteries)
Fractional flow reserve measurement
Intravascular ultrasound
Intravascular OCT
Right heart catheterization for the assessment of the severity of pre- and post-capillary pulmonary hypertension, as well as for the assessment of the heart valve function
Myocardial biopsy

Therapy

Percutaneous transluminal coronary angioplasty with and without implantation of stents (classic stents, drug-coated stents and others)
Rotablation
Intra-aortic balloon counterpulsation
Foramen ovale closure
Atrial septal defect closure
Atrial appendage closure
Coronary artery recanalization in acute myocardial infarction
Rhythmology and interventional electrophysiology

Implantation of pacemakers
Implantation of defibrillators
Implantation of event recorders
Cardiac resynchronization therapy
Ablation therapy
Catheter-assisted pulmonary vein isolation

Angiology

Doppler ultrasonography
Color-flow duplex scanning
Electronic oscillography
Venous occlusion plethysmography
Light reflection rheography
Treadmill ergometry
Capillary microscopy
Percutaneous measurement of arterial oxygen saturation
24-hour blood pressure monitoring

Diabetology

Diagnostics and treatment of type I diabetes mellitus
Diagnostics and treatment of type II diabetes mellitus
Diagnostics and treatment of all other types of diabetes mellitus (for example, LADA diabetes, secondary diabetes mellitus caused by medication intake)

Insulin therapy
Therapy using insulin pumps

Other diagnostic and therapeutic services
Photo of the doctor: (c) Kliniken der Stadt Köln gGmbH
Department of Cardiology, Angiology and Diabetology.
Academic Hospital Cologne-Merheim:

Request more information now.
We will be happy to answer all your questions.
---
Certificates