Academic Hospital Cologne-Merheim
Department of Diagnostic and Interventional Radiology, Neuroradiology, Nuclear Medicine (

603246

)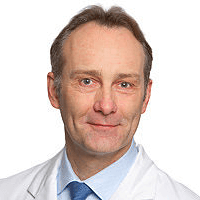 Prof. Dr. med.
Axel Gossmann
Specialized in: diagnostic and interventional radiology, neuroradiology, nuclear medicine
About the Department of Diagnostic and Interventional Radiology, Neuroradiology, Nuclear Medicine at Academic Hospital Cologne-Merheim
The Department of Diagnostic and Interventional Radiology, Neuroradiology, Nuclear Medicine at the Academic Hospital Cologne-Merheim offers the full range of services in these areas. The department uses state-of-the-art medical equipment, such as a high-performance SOMATOM Definition Flash CT scanner, a biplane angiography system, several ultramodern MRI and CT systems, including a 1.5 Tesla scanner for the whole body imaging. The results of the diagnostic tests are stored in a special picture archiving and communication system. All departments of the hospital have access to this system. The department is headed by Prof. Dr. med. Axel Gossmann.
The department's range of medical services includes:
Diagnostic and interventional radiology

Diagnostics

Classical X-ray diagnostics
Skeletal imaging
Thoracic imaging
Imaging of the organs of the gastrointestinal tract, including video recording of the act of swallowing
Ultrasound scanning of all organs, intraoperative ultrasound scanning and ultrasound-guided puncture
Angiography and phlebography
Computed tomography of all parts of the body, including bone mineral density measurement, CT-guided puncture
Mammography with preoperative localization of suspicious foci
Special imaging studies of the upper and lower jaw
Magnetic resonance imaging of all organs, including MR angiography and preoperative neuronavigation

Therapy

Balloon dilatation and stenting to restore vascular patency
Chemoembolization for tumor treatment
Radiofrequency ablation for tumor treatment
Punctures in case of pathological fluid accumulations (for example, in case of abscesses)

Neuroradiology

Diagnostics

Computed tomography of the brain and spinal cord
Magnetic resonance imaging of the brain and spinal cord

Therapy

Intravenous thrombolysis for stroke treatment (in collaboration with the Department of Neurology)
Endovascular coiling to treat aneurysms without opening the cranium
Endovascular treatment of arteriovenous malformations (angiomas)
Embolization of brain and spinal tumors before surgery

Nuclear medicine (all diagnostic tests in this medical field except PET)

Heart diagnostics (myocardial scintigraphy at rest and stress, the identification of viable areas of the myocardium after a heart attack, the detection of circulatory disorders, etc.)
Skeletal scintigraphy
Bone marrow scintigraphy
Kidney scintigraphy
Perfusion and ventilation lung scintigraphy
Brain scintigraphy
Parathyroid gland, adrenal gland, cerebrospinal fluid scintigraphy
Thyroid scintigraphy

Other diagnostic and therapeutic services
Photo of the doctor: (c) Kliniken der Stadt Köln gGmbH
Department of Diagnostic and Interventional Radiology, Neuroradiology, Nuclear Medicine.
Academic Hospital Cologne-Merheim:

Request more information now.
We will be happy to answer all your questions.
---
Certificates