Academic Hospital Eichsfeld Heilbad Heiligenstadt
Department of Cardiology (

114003

)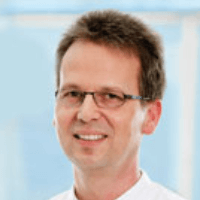 Dr. med.
Stephan Schmidt-Schweda
Specialized in: cardiology, internal medicine
About the department
The Department of Cardiology at the Academic Hospital Eichsfeld, headed by Dr. med. Stephan Schmidt-Schweda, provides the whole range of diagnosis and treatment of heart diseases. It focuses primarily on the coronary heart disease, myocardial weakness, heart valve diseases, hypertension and heart rhythm disorders. The Department works in a close cooperation with experienced centers (University medicine Göttingen, University Hospital Jena, Central Hospital Bad Berka).
The Department under the lead of Dr. med. Stephan Schmidt-Schweda has a special expertise in treatment of patients with a major (STEMI) and minor (NSTEMI) heart attack. For this purpose, all diagnostic and therapeutic procedures are available; the treatment is carried out according to the established protocols. In patients with a "stable angina pectoris", three types of therapy are basically possible: a pure drug treatment, a heart catheter (stent) or a bypass operation.
Another focus at the Academic Hospital Eichsfeld is diagnosis and therapy of heart muscle weakness. In treatable causes (e.g. heart valve disease or coronary heart disease), an appropriate therapy is carried out (e.g. replacement of the heart valve). In addition, optimal medical treatment is initiated. In certain cases, there is an indication for the implantation of an electrical system (defibrillator, triple chamber pacemaker, system for cardiac contractility modulation). With more than 100 implantation operations annually, the Academic Hospital Eichsfeld is the regional reference center in the field of implantable systems.
Main treatment focuses of the Department of Cardiology at the Academic Hospital Eichsfeld:
Coronary heart disease

Major heart attack (STEMI)
Minor heart attack (NSTEMI)

Heart muscle weakness
Heart valve diseases
Hypertension
Heart rhythm abnormalities

Atrial fibrillation / atrial flutter
Supraventricular tachycardia
Ventricular rhythm disorders
Slow cardiac dysrhythmias
All modern procedures are available at the Academic Hospital Eichsfeld:
Heart catheterization

Coronary angiography
FFR-measurement
Coronary angioplasty / stents
Other examinations

Renal sympathetic denervation
Pacemaker

Event-recorder
Pacemaker
Heart insufficiency systems

Electrotherapy
Echocardiography
Intensive medicine

Medical surveillance and monitoring
Breathing / artificial respiration
Blood circulatory system
Renal replacement
Photo of the doctor: (c) Eichsfeld Klinikum
Department of Cardiology.
Academic Hospital Eichsfeld Heilbad Heiligenstadt:

Request more information now.
We will be happy to answer all your questions.
---
Certificates