Academic Hospital Eichsfeld Heilbad Heiligenstadt
Department of Urology (

114009

)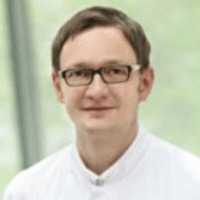 Dr. med.
Christian Weidemann
About the department
The Department of Urology at the Academic Hospital Eichsfeld under the direction of Dr. med. Christian Weidemann offers the entire spectrum of surgical and conservative urology (except kidney transplantations). The focuses include function-preserving cancer surgery, laparoscopy ("keyhole surgery"), diagnosis and treatment of both male and female urinary incontinence, plastic and reconstructive surgery, as well as multimodal therapy for stones. Particular attention is paid to the treatment of benign and malignant diseases of the prostate.
The Department of Urology at the Academic Hospital Eichsfeld is the certified Counseling Center of the German Society for Urinary Incontinence. It also coordinates the interdisciplinary Pelvic Floor Center. Moreover, the Department of Urology is the Training Center of the Federal Medical Chamber of Thuringia. The chief physician, Dr. med. Christian Weidemann, has the authority to upgrade the skills of urologists (60 months) and in the drug treatment of cancer (12 months). The Department includes two sections with 53 beds and an interdisciplinary intensive care unit where patients can receive comprehensive and individual treatment.
The Academic Hospital Eichsfeld also offers services in pediatric urology, whereas surgical procedures are mostly outpatient. If there is required inpatient treatment, one of the parents should stay with their child. Depending on the age of the child, surgical treatment and admission are carried out in the children's hospital in Heiligenstadt. The Department can involve experienced pediatricians and anesthesiologists to treat very young patients. When treating certain symptoms (e.g. enuresis), the Department cooperates with the Social Pediatric Center. The specialists of the Department will be happy to advise you within the framework of the pediatric urologic consultation.
The range of medical services in pediatric urology includes the following options:
Circumcision: surgical treatment of phimosis
Plastic surgery of the frenulum (surgical treatment of the short frenulum of the foreskin)
Diagnosis and treatment of functional disorders of the urinary bladder
Enuresis: diagnosis and treatment of enuresis.
Orchidopexy: surgical treatment of undescended testicle
Laparoscopic procedure to search testicle in cryptorchidism
Hypospadias repair: surgical treatment of abnormalities of external genitalia, e.g. correction of urinary tract abnormalities
Treatment of confluence abnormalities: from ureter to the bladder.
Antireflux plastic repair: treatment of urine outflow from the bladder to the kidneys.
Plastic repair of the renal pelvis: surgical treatment of ureteral stenosis
Urinary tract infections: clarification of the diagnosis of recurrent urinary infections in children.
The range of medical services of the Department of Urology at the Academic Hospital Eichsfeld includes i.a.:
Laparoscopic surgery
Plastic and reconstructive surgery
Treatment of urinary stones
Prostate cancer
Enlarged prostate
Disorders of urination
Outpatient surgery
Urinary incontinence in women and men
Pediatric urology
Urethral disorders
External genitalia
Treatment of erectile dysfunction
Photo of the doctor: (c) Eichsfeld Klinikum
Department of Urology.
Academic Hospital Eichsfeld Heilbad Heiligenstadt:

Request more information now.
We will be happy to answer all your questions.
---
Certificates