Surgical resection of the rectovaginal fistula with closing (program ID:

42667

)
Academic Hospital Eichsfeld Heilbad Heiligenstadt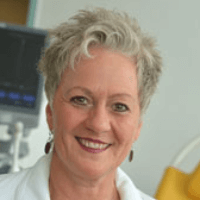 Head Physician
Dr. med.
Annegret Kiefer
Specialized in: gynecology, mammology, obstetrics
Department of Gynecology, Mammalogy and Obstetrics
Program includes:
Initial presentation in the clinic
clinical history taking
review of medical records
physical examination
laboratory tests:

complete blood count
general urine analysis
biochemical analysis of blood
inflammation indicators (CRP, ESR)
indicators blood coagulation

gynecological examination:
ultrasound examination: pelvis, abdomen
CT/MRI of the abdomen and pelvis
preoperative care
resection of the rectovaginal fistula with closing
histologically and immunohistochemically
examination of the remote tissues
symptomatic treatment
control examinations
the cost of essential medicines and materials
nursing services
full hospital accommodation
explanation of future recommendations
Required documents
Medical records
Pelvic ultrasoud (if available)
Pelvic MRI/CT scan (if available)
Service
Price:
Type of program :
Expected duration of the program:
You may also book

Price:
About the department
The Department of Gynecology and Obstetrics at the Academic Hospital Eichsfeld under the direction of Dr. med. Annegret Kiefer can perform all common gynecological surgical procedures. The specialists of the Department treat patients with benign and malignant gynecological diseases. In addition to standard operations, the Department is also specialized in urogynecologic surgery (in prolapse and female urinary incontinence). In the field of obstetrics, the Department offers comfortable delivery (with a primary focus on safety and security) and monitoring of high-risk pregnancies.
The Department under the direction of Dr. med. Annegret Kiefer offers the following gynecological services:
All common gynecological surgical procedures (on both an inpatient and outpatient basis)
Diagnostic and surgical hysteroscopy
Endoscopic surgery, including laparoscopic hysterectomy (a surgical procedure to remove the uterus)
Vaginal interventions
Pelvic floor / incontinence surgery, including loop and mesh placement
Surgery and subsequent treatment of gynecological tumors
Organ-preserving surgery in breast cancer
Consultations on breast cancer treatment
Collaboration with experienced oncologists and radiation therapists
There are available all modern diagnostic methods.
In addition to standard gynecological surgical procedures, the Academic Hospital Eichsfeld specializes in uroginecological surgery and pelvic floor surgery:
Individual diagnostics and medical counselling
All well-established surgical techniques and advanced techniques involving the use of a mesh
Consideration of psychosomatic causes leading to diseases
Close cooperation with qualified physiotherapists specializing in the treatment of the pelvic floor
In the field of obstetrics, the specialized doctors of the Department are responsible for providing competent, caring and family-oriented monitoring of both mother and her baby from the childbirth preparation to their aftercare during the postpartum period.
To this end, the Academic Hospital Eichsfeld offers the following options:
Preparation and follow-up during the postpartum period
Outpatient consultation before childbirth
Family-oriented obstetric care, natural childbirth
Birthing tub, birthing chair, birthing bar
Acupuncture, homeopathy, aromatherapy
Conduction anesthesia, epidural anesthesia in cooperation with the Department of Anesthesia
Mild cesarean section
Full rooming-in and partial rooming-in
Counseling on nutrition and pregnancy in diabetes
Monitoring of high-risk pregnancies (gestosis, intrauterine growth restriction, diabetes)
Doppler sonography
Delivery in high-risk pregnancy, including premature birth (> 32 weeks of pregnancy) in cooperation with the Department of Pediatrics
Photo of the doctor: (c) Eichsfeld Klinikum
---
About hospital
Accommodation in hospital
Recto-vaginal fistula
Program [Description]
Surgical resection of the rectovaginal fistula with closing
Hospital: Academic Hospital Eichsfeld Heilbad Heiligenstadt
Type:
access_time Duration:
Price:
date_range
There are 95 recto-vaginal fistula treatment hospitals on Booking Health website
Show all clinics
Certificates