Knappschaft Hospital Dortmund
Department of Gynecology, Gynecologic Oncology, Mammology and Obstetrics (

654434

)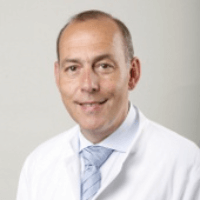 Dr. med.
Frank Schmolling
Specialized in: gynecology, gynecologic oncology, mammology, obstetrics
About the department
The Department of Gynecology, Gynecologic Oncology, Mammology and Obstetrics at the Knappschaft Hospital Dortmund offers the full range of medical services in the areas of its specialization. Of particular interest to the department's gynecologists is the treatment of malignancies of the female reproductive organs and breast cancer. Since the successful cancer treatment requires an interdisciplinary and comprehensive approach, the experts in the field of oncology, radiology, radiation therapy, chemotherapy, palliative care and other doctors are actively involved in the therapeutic process. The department has modern diagnostic rooms, as well as high-tech operating rooms for sparing minimally invasive interventions. Since 2011, the department has been performing robotic interventions using the innovative da Vinci Surgical System, including for the treatment of gynecologic cancers. The field of the department's ​​competence also includes integrated management of pregnancy, delivery and the provision of postnatal care for both mother and newborn. The department is headed by Dr. med. Frank Schmolling.
In the field of gynecologic oncology, the department's patients are provided with services for the prevention, diagnostics and treatment of ovarian cancer, uterine cancer, cervical cancer and vulvar cancer (malignant tumors of the external genital organs in women). The initial stage of treatment is a comprehensive diagnostic examination. Depending on a particular clinical case, the patient may require ultrasound scanning, radiography, CT and MRI scanning, cytological and histological examinations, biopsy and other methods. With appropriate clinical indications, the department's specialists also resort to hysteroscopy and other invasive diagnostic methods in order to detect possible metastases in other organs and anatomical structures. With the diagnostic results, the specialists from related fields cooperatively develop an individual treatment regimen, taking into account the particular type of tumor, its stage, localization, the presence or absence of metastases, the general health, the presence of concomitant diseases, the patient's age, etc.
The treatment of gynecologic cancers is based on surgical resection of a malignant tumor, which can be supplemented by such conservative treatments as chemotherapy, radiation therapy, etc. At the advanced stages of oncology, it may be necessary to perform total removal of the organ, for example, ovaries, uterus. Since the department has state-of-the-art technical devices, in most cases, the surgical treatment involves the use of sparing minimally invasive techniques. The department's medical team has rich and successful experience in robotic interventions using the da Vinci Surgical System for the treatment of uterine and cervical cancer. Nowadays, robot-assisted surgery is a breakthrough in surgery, since such operations are characterized by impeccable accuracy of surgical manipulations. Only a few small skin incisions are required to provide surgical access, through which the robotic "slave manipulators" insert special instruments and a miniature camera for the transmission of images of the surgical field to a large screen. Thanks to the multiple zooming during the intervention, the surgeon can clearly see the smallest anatomical structures, vessels, which eliminates the risk of damage to the healthy tissue. In fact, the operation is performed by a robot, but it only runs the commands of a competent surgeon, who carefully controls the entire process and gives commands to the robot sitting at a special control panel. After robot-assisted surgery the patient does not need a long period of hospitalization – she can leave the hospital in a few days. In addition, miniature skin incisions virtually eliminate the risk of profuse bleeding and infections.
The department's priority clinical focus is also on breast cancer treatment. The department provides high quality screening, diagnostics and treatment of breast cancer. To detect breast cancer, the department's doctors carry out such high-precision examinations as ultrasound scanning, mammography, MRI, biopsy and others. The treatment regimen for each patient is developed individually during the interdisciplinary tumor boards. Should surgical treatment be required, minimally invasive techniques are used, if possible. If the patient requires total mastectomy, she is additionally offered breast reconstruction surgery using implants and/or autologous tissues, which is performed in cooperation with the Department of Plastic and Aesthetic Surgery. The therapeutic options are also complemented by chemotherapy and radiation therapy. As a rule, these types of treatment are carried out on an outpatient basis. In addition to classic irradiation, intraoperative radiation therapy can also be provided.
The department has all the modern resources for the integrated management of pregnancy, labor management and follow-up care for both mother and child. Depending on the course of childbirth and the patient's clinical indications, it is possible to carry out natural childbirth or perform a C-section in a specially adapted operating room. To relieve pain during childbirth, the patients are offered homeopathy, acupuncture and epidural anesthesia. The baby is delivered by experienced obstetrician-gynecologists who make every effort to ensure the fast and safe childbirth.
The department's key clinical focuses include:
Gynecologic oncology

Diagnostics and treatment of uterine cancer
Diagnostics and treatment of cervical cancer
Diagnostics and treatment of ovarian cancer
Diagnostics and treatment of vulvar cancer

Surgical treatment, including laparoscopic and robot-assisted operations
Chemotherapy
Radiation therapy

Mammalogy

Diagnostics and treatment of breast cancer

Surgical treatment, including follow-up reconstructive surgery using implants or autologous tissue
Chemotherapy
Radiation therapy, including intraoperative radiation therapy

General gynecology

Diagnostics and treatment of uterine fibroids

Drug therapy
Uterine artery embolization in the case of uterine fibroids
Enucleation of uterine fibroids
Hysterectomy

Diagnostics and treatment of endometriosis

Hormone therapy
Surgical removal of the foci of endometriosis

Diagnostics and treatment of pelvic organ prolapse (bladder, bowel or uterus)

Vaginoplasty
Correction of prolapse using a special mesh
Hysterectomy
Vaginal sacrospinal fixation according to Amreich-Richter and sacrocolpopexy

Diagnostics and treatment of genital warts

Laser surgery (CO2 laser)

Obstetrics

Integrated management of pregnancy
Labor management (vaginal childbirth and C-section)
Postpartum care for both mother and newborn

Other diagnostic and therapeutic options
The department's range of surgical services includes:
Robot-assisted surgery using the da Vinci Surgical System

Hysterectomy for uterine and cervical cancer
Surgical repair of pelvic organ prolapse
Endometriosis surgery

Minimally invasive surgery

Laparoscopy

Tubal sterilization
Chromopertubation (method for infertility diagnostics)
Surgery to treat ectopic pregnancy
Surgery to treat infertility
Surgery to treat endometriosis
Surgery to remove ovarian cysts
Surgery to remove ovaries and fallopian tubes
Surgery to remove uterine fibroids
Hysterectomy
Surgery to eliminate adhesions caused by previous interventions

Hysteroscopy

Surgery to remove polyps and uterine fibroids
Hysteroscopy to diagnose infertility
Hysteroscopy to diagnose haemorrhages
Surgery to remove uterine septum

Laser surgery

Removal of genital warts using the CO2 laser

Outpatient surgery

Hysteroscopy and endocervical curettage of the cervix and its cavity
Tissue sampling for biopsy
Minor breast surgery
Curettage in the case of miscarriage
Assessment of the tubal patency in the case of an unfulfilled desire to have children
Minor surgery on external gental organs in women

Other methods of surgical treatment of gynecologic diseases
Curriculum vitae
Higher Education, Postgraduate Training and Professional Career
Study of Human Medicine at the Philipps-University of Marburg and the Free University of Berlin.
1990 Admission to medical practice.
1990 - 1996 Clinical training for board certification in Gynecology and Obstetrics at the Frankfurt Höchst Hospital.
1996 Board certification in Gynecology and Obstetrics.
1996 - 1997 Senior Physician, Department of Gynecology, Hospital of the Holy Spirit Frankfurt am Main.
1997 - 2002 Senior Physician, Department of Mammology (focus on surgery and breast cancer treatment), Offenbach Clinic.
Since February 2002 Chief Physician of the Department of Gynecology, Gynecologic Oncology, Mammology and Obstetrics at the Knappschaft Hospital Dortmund.
Additional Qualifications
1998 Training Course in Stereotactic Vacuum Aspiration Breast Biopsy at the European Surgical Institute, Hamburg.
Optional advanced training in Special Surgical Gynecology.
Participation in the work of the European Academy of Senology in Duesseldorf.
Memberships in Professional Societies
Since 1995 Member of the Professional Association of Gynecologists.
Since June 1996 Member of the Working Group on Gynecologic Endoscopy of the German Society of Gynecology and Obstetrics.
Since February 1997 Member of the German Society for Perinatal Medicine and Obstetrics.
Since April 1998 Member of the Middle Rhine Society of Gynecology and Obstetrics.
Since 2011 Member of the Working Group on Robot-Assisted Surgery in Gynecology.
Photo of the doctor: (c) Knappschaftskrankenhaus Dortmund
Department of Gynecology, Gynecologic Oncology, Mammology and Obstetrics.
Knappschaft Hospital Dortmund:

Request more information now.
We will be happy to answer all your questions.
---
Certificates