Academic Hospital Neuperlach Munich
Department of Gynecology, Mammology and Obstetrics (

113853

)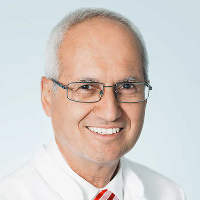 Prof. Dr. med.
Dieter Grab
Specialized in: gynecology, obstetrics
About the department
The Department of Gynecology, Mammology and Obstetrics treats women both during pregnancy and birth as well as with gynecological diseases. In addition, the clinic offers special consultations for breast, uterine fibroids and pelvic floor weakness. Delivery room team of the clinic can offer the puerpera personal and intensive support - both during and after birth. The services in gynecology include gynecological diagnosis, surgical procedures, and gynecological oncology.
Curriculum vitae
1983 German and American medical state examination
1983 Approbation
1983 Promotion to Dr. med. at the Faculty of Theoretical Medicine. Subject: "The Glycoprotein Metabolism of Nerves and Glial
Cells: Autoradiographic studies on the nucleus nervi hypoglossi of the rat under normal conditions and after axotomy."
(Magna cum laude)
1983 Scientific assistant at the department of Clinical Morphology, University of Ulm (Head: Prof. Dr. Ch. Pilgrim)
1983 Assistant physician at the surgical department of the district hospital Blaubeuren (Chief Physician: Dr. G. Brötz)
1985 Scientific employee at the University wome,'s hospital of Ulm
1990 Recognition as a gynaecologist
1993 Appointment as senior physician at the University of Ulm
1994 Habilitation for the department of gynecology and obstetrics. Topic: "On the receptivity of the endometrium: importance of
sonography and double sonography in the untreated menstrual cycle and after hormonal stimulation".
1994 Award of Venia Legendi for the specialist area of gynecology and obstetrics
1995 Appointment as Managing Director at the University of Ulm
2000 Appointment as an extraordinary professor
2002 Election at the top of the list of the C3-permanent post for the prenatal diagnostics and obstetrics of the University of Münster
2003 Chief physician of the women's clinic of the urban clinic Munich-Harlaching
2003 Appointment as lecturer at the Ludwig Maximilian University Munich
2011 Additional takeover of the chief physician position of the women's clinic Neuperlach of the Urban Clinic München GmbH
Department of Gynecology, Mammology and Obstetrics.
Academic Hospital Neuperlach Munich:
Request more information now.
We will be happy to answer all your questions.
---
---
Certificates