Hospital Neuperlach Munich
Department of Diagnostic and Interventional Radiology (

687389

)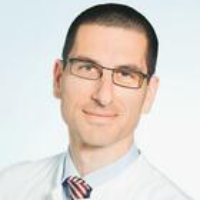 Prof. Dr. med.
Andreas Saleh
Specialized in: diagnostic and interventional radiology
About the Department of Diagnostic and Interventional Radiology at Hospital Neuperlach Munich
The Department of Diagnostic and Interventional Radiology at the Hospital Neuperlach Munich offers the full range of image-guided diagnostic and interventional therapeutic procedures at the highest level of modern medicine. Medical care can be provided both on an inpatient and outpatient basis. The department's specialists annually perform more than 70,000 diagnostic tests, and therefore they have tremendous experience and guarantee an accurate diagnosis, which determines the success of follow-up treatment. The doctors use in their work a modern picture archiving and communication system, thanks to which the specialists from various departments of the hospital have access to the results of patient's diagnostic examination at any time. The Chief Physician of the department is Prof. Dr. med. Andreas Saleh.
Radiologists have state-of-the-art systems for digital radiography, digital fluoroscopy, sonography, mammography, computed tomography, magnetic resonance imaging, angiography and other examinations. The radiation protection standards are strictly observed in the department's clinical practice. In addition to non-invasive diagnostic tests, the department's specialists also perform invasive diagnostic ultrasound- and CT-guided procedures, including puncture, drainage and biopsy.
In the field of interventional radiology, the department's medical team conducts therapeutic procedures, which allow the patient to avoid open surgery, while guaranteeing high efficiency of treatment. One of the primary focuses of the specialists' work is balloon dilatation and stent implantation for occlusions and stenoses of the vessels in the abdominal cavity, pelvis and lower limbs, stenoses of the carotid and renal arteries. Of particular interest is also the treatment of tumors using radiofrequency or microwave ablation and chemoembolization. In addition, the department's doctors have a special competence in the placement of port systems for chemotherapy and the formation of vascular access for dialysis. The range of services in interventional radiology is also complemented by uterine artery embolization in women.
The department specializes in such diagnostic tests and interventional therapeutic procedures:
Diagnostic tests

Digital radiography
Digital fluoroscopy
Sonography
Mammography
Computed tomography
Magnetic resonance imaging, including cardiac MRI
Angiography
Ultrasound- and CT-guided biopsy, puncture and drainage
Bone mineral density measurement (densitometry)
Brain scintigraphy

Interventional therapeutic procedures

Embolization to stop gastrointestinal bleeding
Pain therapy

Sympatholysis
Facet joint block
Nerve root block
Ganglionic block
Vertebroplasty

Radiofrequency and microwave ablation for tumor treatment
Stereotactic breast tumor marking
Stereotactic breast puncture
Uterine artery embolization
Transarterial chemoembolization of tumors
Portal vein embolization
Transjugular intrahepatic portosystemic shunting (TIPSS)
Removal of foreign bodies from blood vessels
Embolization for hemangiomas

Other diagnostic and therapeutic options
Photo of the doctor: (c) München Klinik Neuperlach
Department of Diagnostic and Interventional Radiology.
Hospital Neuperlach Munich:

Request more information now.
We will be happy to answer all your questions.
---