Academic Hospital Schwabing Munich
Department of Abdominal Surgery (

113869

)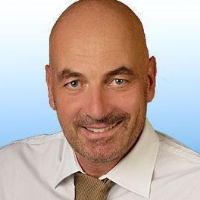 Prof. Dr. med.
Marco Rudolph
Specialized in: abdominal surgery
About the department
The Department of Abdominal Surgery in Schwabing diagnoses and treats all kinds of diseases of the organs of the abdominal cavity - conservative, interventional and surgical. Here gastroenterologists, hepatologists and visceral surgeons work hand in hand and guarantee the patient an optimal, interdisciplinary care. In the field of gastroenterology endoscopy is used to diagnose and treat the esophagus, gastrointestinal tract, gall bladder and pancreas. In cooperation with the Children's Hospitals infants can already benefit from it.
Curriculum vitae
Professional career
1990 – 1996 Study of Human Medicine at the Heidelberg University and University of the Witwatersrand, Johannesburg / South Africa
1996 – 1998 Hospital of the University of Mannheim
1998 – 2003 University Hospital Heidelberg
Since 2003, Head of the Department of Abdominal Surgery, Munich Municipal Hospital Group (Schwabing / Bogenhausen)
Medical Specialist in:
General Surgery
Abdominal Surgery
Thoracic Surgery
Vascular Surgery
Clinical Interests / Special Fields
Minimally invasive surgery of the abdominal and thoracic organs
Memberships
German Society of Surgery (DGCH)
German Society of General and Visceral Surgery (DGAV)
German Society of Thoracic Surgery (DGT)
Photo of the doctor: (c) München Klinik gGmbH
Department of Abdominal Surgery.
Academic Hospital Schwabing Munich:

Request more information now.
We will be happy to answer all your questions.
---
Certificates