Hospital Schwabing Munich
Department of Pediatric Orthopedics (

113877

)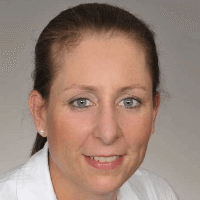 Dr. med.
Maya Salzmann
Specialized in: pediatric orthopedics
About the department
The Department of Pediatric Orthopedics at the Hospital Schwabing Munich offers all the options of modern medicine for the diagnostics and treatment of the full range of musculoskeletal diseases in children. The department's specialists provide effective conservative and surgical treatment of diseases of the bones, joints, muscles and tendons. The department's medical team cooperates closely with doctors from a variety of medical disciplines, including pediatricians, pediatric neurologists, oncologists, pediatric surgeons and neurosurgeons. The department is headed by Dr. med. Maya Salzmann.
The main goal of the clinical activities of the department's specialists is the successful treatment of the musculoskeletal diseases to eliminate pain syndrome, restricted mobility and, accordingly, ensure a decent quality of life. Each clinical case is considered on an individual basis, and each treatment regimen is developed taking into account the particular clinical indications of a young patient. The department has created all conditions for the child to make him feel as comfortable as possible during treatment.
The team of pediatric orthopedists is proud of its successful experience in the treatment of hip dysplasia, which is one of the most common congenital disorders in children. The main diagnostic method for this malformation is ultrasound scanning. It can be performed even at the stage of prenatal development. As in the case of other diseases, early detection makes it possible to completely get rid of the pathology and its complications. Depending on the particular clinical case, the child can undergo either conservative or surgical treatment. It goes without saying that the department's doctors prefer conservative methods, while surgery is the last line therapy. The conservative treatment implies the use of a special splint. The treatment results are regularly monitored using ultrasound and MRI scanning. The main method of surgical treatment of congenital hip dysplasia is triple pelvic osteotomy. In the case of extremely severe hip lesions, joint replacement surgery becomes an option of choice.
The treatment of Perthes' disease is also of particular interest to the department's medical team. The pathology is characterized by lameness, as well as knee and hip pain that limits the child's mobility. The diagnostics of Perthes' disease is based on the ultrasound examination, while magnetic resonance imaging can be used as a differential diagnostic method. The department provides both conservative and surgical treatment of pathology. The first line treatment is physical therapy, swimming and drug intake for severe pain. Botulinum toxin injections can be used as an additional measure. In case of severe types of Perthes' disease, conservative treatment does not give a good result, so the child needs a surgical procedure – corrective osteotomy.
In addition, the team of the department's doctors has vast experience in the correction of foot deformities (clubfoot, pes valgus, pes equinus, pes cavus), acquired spinal diseases, infantile cerebral palsy, muscular dystrophy and atrophy, congenital malformations of the upper and lower limbs. Preference is always given to conservative therapy. The department's doctors resort to surgery only when all other therapeutic methods have already been used.
The department's range of medical services includes:
Diagnostics and treatment of congenital hip dysplasia
Diagnostics and treatment of acquired hip diseases

Coxitis fugax
Perthes' disease
Epiphysiolysis capitis femoris
Coxa vara
Coxa valga

Diagnostics and treatment of acquired knee diseases

Patellar dislocation and dysplasia
Osgood-Schlatter disease
O-shaped and X-shaped legs

Diagnostics and correction of foot deformities

Clubfoot
Pes valgus
Pes equinus
Pes cavus

Diagnostics and treatment of acquired spinal diseases
Diagnostics and treatment of torticollis
Diagnostics and treatment of gait disorders
Diagnostics and treatment of infantile cerebral palsy
Diagnostics and treatment of spina bifida
Diagnostics and treatment of аrthrogryposis multiplex congenita
Diagnostics and treatment of muscular dystrophies and muscular atrophies
Diagnostics and correction of congenital malformations of the upper and lower extremities
Diagnostics and treatment of skeletal dysplasia
Diagnostics and treatment of growth disorders

Rickets
Difference in the length of the lower limbs
Transverse and longitudinal limb malformations

Diagnostics and treatment of rheumatic diseases in children
Diagnostics and treatment of other musculoskeletal diseases in children
Curriculum vitae
Qualifications
2004 Qualifications in Radiation Protection.
2006 Specialization in Sports Medicine.
2009 Board certification in Orthopedics and Traumatology.
2011 Specialization in Pediatric Orthopedics.
2012 Course in Neuro-Orthopedics for the Care of Disabled Patients.
Clinical Interests
Treatment of orthopedic diseases in children.
Treatment of neuro-orthopedic diseases in children (infantile cerebral palsy, spina bifida, congenital multiple arthrogryposis).
Correction of foot deformities in children (clubfoot, pes valgus, pes equinus, pes cavus, Hallux valgus).
Treatment of hip diseases in children (hip dysplasia, Perthes' disease, limb length difference).
Torticollis correction.
Scoliosis correction.
Memberships in Professional Societies
Professional Association of Pediatric Orthopedic Physicians (VKO).
International Association for Neuro-Orthopedics.
Photo of the doctor: (с) München Klinik Schwabing
Department of Pediatric Orthopedics.
Hospital Schwabing Munich:

Request more information now.
We will be happy to answer all your questions.
---
Certificates