St. Elisabethen Hospital Lörrach
Department of Adult and Pediatric Urology, Andrology (

371105

)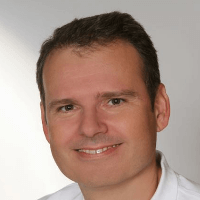 Dr. med.
Dirk Weese
Specialized in: adult and pediatric urology, andrology
About the Department of Adult and Pediatric Urology, Andrology at St. Elisabethen Hospital Lörrach
The Department of Adult and Pediatric Urology, Andrology at the St. Elisabethen Hospital Lörrach offers the full range of top-class medical services in the fields of its competence. The department specializes in the diagnostics, conservative and surgical treatment of diseases of the reproductive system in men and boys, as well as diseases of the urinary system in women, men and children. It also admits men with andrological disorders. The department's doctors are members of the Cancer Center Lörrach-Rheinfelden and the Interdisciplinary Competence Center for Urinary Incontinence, which testifies to their outstanding professional skills. Every year, the department performs more than 1,000 inpatient and 300 outpatient interventions of varying complexity. In addition, the department's specialists perform many highly effective conservative therapeutic procedures, including brachytherapy – internal radiation therapy for prostate cancer treatment by placing a radiation source directly near the pathological focus. The department's doctors strictly follow clinical protocols when conducting diagnostics and treatment, so patients can be confident in the safety and effectiveness of medical services. The department is headed by Dr. med. Dirk Weese.
The focus of the department's medical team is on patients with cancer of the male reproductive system. Prostate cancer is one of the most common types of oncology in men. The treatment of this disease involves the use of various therapeutic methods. In most cases, the first-line therapy is surgery – the department's surgeons successfully perform minimally invasive and endoscopic interventions. Surgery is often combined with chemotherapy. With appropriate indications, brachytherapy can also be performed for internal irradiation of the tumor. This type of radiation therapy allows the doctors to direct the maximum dose of radiation to the oncological focus, while practically not damaging healthy tissues. The therapy guarantees excellent results and causes minimal side effects. The department's doctors also achieve excellent results in the treatment of bladder, ureteral, kidney, testicular and penile cancer. As in case of prostate cancer, tumor resection surgery is usually the mainstay of the treatment regimen.
Among benign diseases of the male genital organs, benign prostatic hyperplasia is the most common in clinical practice. In the early stages of prostate adenoma, the department's urologists prescribe drug therapy. In case of progression of the pathology, laser treatment with the Green Light Laser device becomes an option of choice. Many men also come to the department with prostatitis (inflammation of the prostate gland), in which a set of drugs is prescribed individually. Drug therapy is also used to treat inflammatory and infectious diseases of the kidneys, bladder, urethra and testicles.
The department's pediatric urologists deal with the treatment of nocturnal enuresis in boys and girls, cryptorchidism (undescended testicles) and phimosis (foreskin narrowing) in boys. Surgery for cryptorchidism and phimosis are performed using endoscopic techniques, on an outpatient basis.
The department can also help men with such andrological diseases as erectile dysfunction, premature ejaculation, sexually transmitted diseases, infertility. Men with age-related urological changes can also be treated here. In most cases, the above mentioned diseases respond well to conservative treatment.
The department's key clinical areas include:
Adult urology

Diagnostics and treatment of cancer of the male reproductive system and urinary tract

Prostate cancer
Bladder cancer
Ureteral cancer
Kidney cancer
Testicular cancer
Penile cancer

Diagnostics and treatment of benign prostate diseases

Benign prostatic hyperplasia
Prostatitis

Diagnostics and treatment of acute and chronic inflammatory diseases of the kidneys, bladder and urethra
Diagnostics and treatment of inflammation of the testicle and epididymis
Diagnostics and treatment of kidney stone disease
Diagnostics and treatment of bladder dysfunction

Urinary incontinence
Overactive bladder

Pediatric urology

Diagnostics and treatment of nocturnal enuresis
Diagnostics and treatment of cryptorchidism (undescended testicle)
Diagnostics and treatment of phimosis

Andrology

Diagnostics and treatment of erectile dysfunction
Diagnostics and treatment of premature ejaculation
Diagnostics and treatment of sexually transmitted diseases
Diagnostics and treatment of reproductive disorders in men
Medical care for age-related complaints in men

Other medical services
The department's therapeutic options include:
Conservative treatment

Drug therapy, including chemotherapy for the treatment of cancer of the male genitalia and urinary tract

Surgical treatment

Outpatient operations

Circumcision (for phimosis or at the patient's request)
Sterilization (vasoligation)
Surgery for inguinal hernias
Surgery for hydrocele
Removal of genital warts
Placement or replacement of urethral catheter, nephrostomy catheter

Inpatient operations

Transurethral resection of the prostate (TURP) and open surgery for benign prostate enlargement
Kidney surgery for tumors, contracted kidney, ureteral stenosis and kidney stones
Bladder surgery for tumors, stones and diverticula
Testicular surgery for tumors, undescended testicles, hydrocele and testicular torsion
Urethral surgery, including endoscopic and laser stone removal
Surgical treatment of urinary incontinence in women
Extracorporeal shock wave lithotripsy
Laparoscopic surgery (kidney removal, varicocele ligation)
Brachytherapy for prostate cancer treatment

Other surgical interventions
Photo of the doctor: (c) St. Elisabethen-Krankenhaus gGmbH
Department of Adult and Pediatric Urology, Andrology.
St. Elisabethen Hospital Lörrach:

Request more information now.
We will be happy to answer all your questions.
---