Academic Hospital St. Elisabethen Lörrach
Department of Adult and Pediatric Urology (

371105

)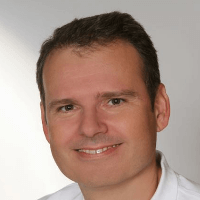 Dr. med.
Dirk Weese
Specialized in: adult and pediatric urology
About the department
The Department of Adult and Pediatric Urology at the Academic Hospital St. Elisabethen Lörrach offers the full service range in this medical field. The department specializes in the diagnostics, conservative and surgical treatment of diseases of the genitourinary tract in men, women and children. The department's doctors are members of the Lörrach-Rheinfelden Cancer Center and the Interdisciplinary Incontinence Center. The department performs more than 1,000 inpatient and 300 outpatient interventions every year. All diagnostic and therapeutic measures comply with the requirements of professional societies. The department is headed by Dr. Dirk Weese.
Much attention is paid to the surgical treatment of cancers in men (open surgical techniques and endoscopic interventions), as well as to chemotherapy for the treatment of urological cancers. In addition, surgical procedures for the treatment of patients with urinary incontinence and kidney disease are of particular interest. The department has excellent therapeutic options, such as laser therapy (Green Light Laser), extracorporeal shock wave lithotripsy, SEED implantation (low-dose-rate brachytherapy), local radiation therapy, etc.
The range of conservative medical services of the department includes:
Outpatient services

Treatment of benign prostate diseases (benign prostatic hyperplasia, prostatitis)
Treatment of acute and chronic inflammatory diseases of the kidneys, bladder and urethra
Treatment of inflammation of the testis and epididymis (epididymitis)
Treatment of kidney stone disease
Treatment of bladder dysfunction

Urinary incontinence
Overactive bladder

Treatment of male sexual dysfunction

Erectile dysfunction
Premature ejaculation
Sexually transmitted diseases

Treatment of male reproductive dysfunction
Treatment of pediatric urologic diseases

Nocturnal enuresis
Cryptorchidism (undescended testicle)
Phimosis (narrowing of the foreskin)

Treatment of cancers

Prostate cancer
Bladder, ureteral and kidney cancers
Testicular cancer
Penile cancer

Treatment of age-related complaints in men
Psychosomatic care

Inpatient services

Treatment of acute urologic diseases
Treatment of renal colic pain
Treatment of severe inflammatory diseases of the kidneys, prostate gland, testicles and epididymis

Other medical services
The department's range of surgical services includes:
Outpatient operations

Circumcision (in phimosis or at the request of the patient)
Sterilization (vasoligation)
Prostate biopsy
Inguinal hernia
Hydrocele
Removal of genital warts
Installation or replacement of the urethral catheter
Installation and replacement of the nephrostomy tube

Inpatient operations

Open surgery in benign prostate gland enlargement (transurethral resection of the prostate)
Kidney surgery in kidney tumors, contracted kidney, ureteric stenosis and kidney stones
Bladder surgeries in tumors, stones and diverticula
Testicular surgeries in tumors, undescended testes, hydrocele and torsion
Urethral surgery (including endoscopic and laser stone removal)
Female incontinence surgery
Extracorporeal shock wave lithotripsy
Laparoscopic surgery (kidney removal, varicocele ligation)

Other surgical procedures
Photo of the doctor: (c) St. Elisabethen Krankenhaus gGmbH
Department of Adult and Pediatric Urology.
Academic Hospital St. Elisabethen Lörrach:

Request more information now.
We will be happy to answer all your questions.
---
Certificates