Academic Hospital Westpfalz Kaiserslautern
Department of Adult and Pediatric Neurosurgery (

410927

)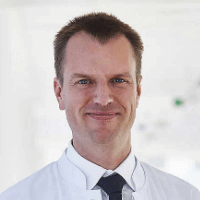 Prof. Dr. med.
Jens Lehmberg
Specialized in: adult and pediatric neurosurgery
About the department
The Department of Adult and Pediatric Neurosurgery at the Academic Hospital Westpfalz Kaiserslautern offers the full range of services in this focus and specializes in the diagnosis and surgical treatment of diseases of the central and peripheral nervous system, i.e., pathologies of the brain, spine, intervertebral discs, oncological diseases of these organs, skull base defects and vascular malformations. In the field of pediatric neurosurgery, there is provided a comprehensive counseling on oncological diseases, hydrocephalus and meningomyelocele in children. The department is headed by Prof. Dr. med. Jens Lehmberg.
The department has 33 general beds, while for emergency, pre- and postoperative medical care there is an Intensive Care Unit equipped with modern heart-lung machines, systems of continuous neuromonitoring (intracranial pressure, EEG), devices for monitoring patients' heart function, blood circulation and breathing.
In addition, the department offers excellent diagnostic capabilities: computed tomography, magnetic resonance imaging, the Neurophysiological Laboratory for electroencephalography, electromyography, evoked potential testing and transcranial Doppler ultrasound.
The basis of all neurosurgical interventions is microsurgery. The therapeutic spectrum includes surgical procedures for the treatment of tumors, pains, diseases of the intervertebral discs with the help of the state-of-the-art thermocoagulation devices, laser, radio navigation systems, ultrasound-guided aspiration techniques, stereotactic methods.
To prevent the development of neurological and cognitive disorders, the specialists begin to comprehensively apply methods of physiotherapy, ergotherapy and speech therapy, which can be supplemented by the methods of neuropsychological therapy, even in the acute phase of pathology.
The main clinical focuses of the department include:
Treatment of skull base, brain and spinal injuries
Treatment of diseases of the intervertebral discs
Treatment of tumors of the central and peripheral nervous system
Treatment of skull base tumors
Treatment of vascular malformations (for example, angiomas and aneurysms)
Treatment of spontaneous intracerebral hemorrhage
Treatment of injuries and lesions of the peripheral nerves
Treatment of congenital malformations, such as hydrocephalus and meningocele
Treatment of pain syndromes that are not amenable to drug treatment
Stereotaxy (for an accurate removal of brain tissue)
Methods of interventional radiology (for example, embolization in congenital vascular malformations)
Pediatric neurosurgery (counseling on oncological diseases, hydrocephalus and meningomyelocele in children)
Other medical services
Curriculum vitae
Membership in Professional Societies
German Society of Neurosurgery (DGNC).
German Society of Intensive Neurological Therapy and Emergency Medicine (DGNI).
German Society for Skull Base Surgery (DGSB).
German Spine Society (DWG).
European Society of Microcirculation (ESM).
Photo of the doctor: (c) Westpfalz-Klinikum GmbH
Department of Adult and Pediatric Neurosurgery.
Academic Hospital Westpfalz Kaiserslautern:

Request more information now.
We will be happy to answer all your questions.
---