Cesarean section (program ID:

36041

)
Academic Hospital zum Heiligen Geist Frankfurt am Main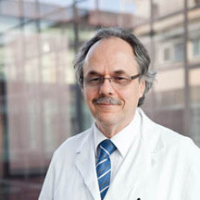 Head Physician
Dr. med.
Egon Lieb
Specialized in: gynecology, obstetrics
Department of Gynecology and Obstetrics
Program includes:
For 2 weeks before birth:
Initial presentation in the clinic
clinical history taking
physical examination
review of medical records
laboratory tests:

complete blood count
biochemical analysis of blood
indicators of inflammation (CRP, ESR)
indicators blood coagulation

pelvic ultrasound
gynecological examination:

transvaginal ultrasound
colposcopy
scraping with subsequent analysis

fetal examination:

3 D sonography
determine fetal position before delivery
CTG

nursing services
treatment by chief physician and all leading experts
maintaining an obstetrician until birth
Day of birth​​
gynecological examination
fetal examination
preparation according to preoperative standard
cesarean section
symptomatic treatment
control examinations
the cost of essential medicines and materials
nursing services
full hospital accommodation
explanation of future recommendations
After birth
maintaining an obstetrician after birth
examination during the postnatal period (during the first three weeks)
control gynecological examinations during the postnatal period
the first pediatric examination of the newborn
Required documents
Medical records, obstetric history
Service
Price:
Type of program :
Expected duration of the program:
You may also book

Price:
About the department
The Hospital zum Heiligen Geist in Frankfurt am Main with its Department of Gynecology and Obstetrics offers patients the best diagnostic and therapeutic options involving the use the cutting-edge methods. The Department, led by Dr. med. Egon Lieb, specializes in the treatment of gynecologic cancers, special gynecological surgery and minimally invasive surgical techniques.
The Department has two main focuses: gynecology and obstetrics. The most common gynecological diseases are breast cancer and diseases of the female genital organs. The Department specializes in the surgical treatment and chemotherapy for breast cancer. The Hospital zum Heiligen Geist in Frankfurt am Main performs different plastic surgeries, including breast augmentation, reduction and reconstruction after cancer and trauma. The range of services is completed by the surgical treatment of benign and malignant tumors of the female genitals, endoscopic surgical treatment, laparoscopy, as well as outpatient operations under general and local anesthesia.
In the field of cancer treatment, the Department under the direction of Dr. med. Egon Lieb offers surgical treatment and chemotherapy for the following conditions:
Breast diseases in women

Differential diagnosis of benign and malignant breast diseases
A thorough medical history and examinations of the breast, lymphatic outflow tract, evaluation of the breast skin and shape
Ultrasound examinations and mammography
Histological studies
75% of breast malignancies can be treated using breast-conserving surgery
Removal of sentinel lymph nodes for their diagnosis
If it is impossible to perform a breast-conserving surgery, the doctor agrees with you the best method for breast reconstruction

Diseases of the female genital organs

Surgical treatment of both benign and malignant diseases of the female genital organs at the highest level
Vaginal reconstruction surgery after radical cancer surgery
Interdisciplinary cancer care provided in the Departments of Anesthesiology, Surgical Intensive Care and Pain Therapy, Oncology Outpatient Clinic, and psycho-oncological support (Department of Psychosomatics)

Complaints of prolapse and urinary incontinence
In the field of obstetrics, the Hospital zum Heiligen Geist in Frankfurt am Main offers all common types of delivery, support during the postpartum period and breast feeding. In addition, there is a wide choice of courses that cover all aspects related to childbirth.
Curriculum vitae
Seit 2004 Chefarzt der Frauenklinik am Hospital zum heiligen Geist Frankfurt
1997-2004 Leitender Oberarzt und Vertreter des Chefarztes perinatologisches und onkologisches Zentrum, Klinikum Offenbach Maximalversorgung
1992-1997 Oberarzt perinatologisches und onkologisches Zentrum, Klinikum Offenbach Maximalversorgung
1990-1992 Einsatz in Oberarztfunktion, DKH Langen
1984-1990 Assistenzarzt in Weiterbildung zum Frauenarzt DKH Langen
Photo of the doctor: (c) Hospital zum Heiligen Geist
---
About hospital
Accommodation in hospital
Childbirth
Program [Description]
Cesarean section
Hospital: Academic Hospital zum Heiligen Geist Frankfurt am Main
Type:
access_time Duration:
Price:
date_range
There are 78 childbirth treatment hospitals on Booking Health website
Show all clinics
Certificates