Alfried Krupp Hospital in Essen-Steele
Department of Adult and Pediatric Otolaryngology, Allergology, Head and Neck Surgery (

158

)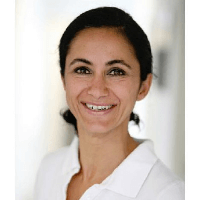 Dr. med.
Shabnam Fahimi-Weber
Specialized in: adult and pediatric otolaryngology, allergology, head and neck surgery
About the Department of Adult and Pediatric Otolaryngology, Allergology, Head and Neck Surgery at Alfried Krupp Hospital in Essen-Steele
The Department of Adult and Pediatric Otolaryngology, Allergology, Head and Neck Surgery at the Alfried Krupp Hospital in Essen-Steele offers the full range of medical services in the fields of its competence. The department has been in successful clinical practice for more than 30 years, so it has accumulated vast experience in the field of conservative and surgical treatment of ENT diseases, surgical interventions in the head and neck, as well as medical care to patients with allergic diseases. In the field of pediatric otolaryngology, the key focus is on hearing screening in newborns and young children, as well as on the follow-up medical care for young patients with hearing loss. The department's surgical options include surgical procedures for diseases of the nose, paranasal sinuses, ears, interventions for the treatment of snoring, removal of tonsils, neck cysts and salivary glands, and laryngeal surgery. The department also performs facial plastic surgery: rhinoplasty, otoplasty, blepharoplasty, removal of facial skin tumors with the closure of defects using flap surgery, treatment of wrinkles with Botox and filler injections. All the department's doctors devote a sufficient amount of time to personal communication with their patients, strive to choose the optimal therapeutic regimen with the use of the most sparing treatment methods. The high professionalism of the medical team and the excellent equipment available in the department allows the medical facility to meet high standards of medical care. The department is headed by Dr. med. Shabnam Fahimi-Weber.
The key to successful treatment is accurate diagnostics, and therefore the department has modern diagnostic rooms intended for examinations in case of suspected hearing loss and ear pathologies (pure-tone threshold audiometry, speech audiometry, brainstem auditory evoked response testing, tympanometry, etc.), nasal examinations (ultrasound and endoscopy, rhinomanometry), laryngeal examinations (endoscopy and stroboscopy) and other procedures. The department offers digital volume tomography, which is an indispensable diagnostic test for suspected diseases of the paranasal sinuses, including sinus infections, cysts and polyps, middle ear diseases, chronic otitis media and ear anomalies. The advanced diagnostic technique allows reproducing high resolution 3D images of anatomical structures of the head and neck.
The department's allergologists have in their command a variety of diagnostic tests for detecting allergies: prick tests, scratch tests, epicutaneous and intracutaneous tests, special food allergy tests, nasal provocation tests, RAST test, etc. With the available diagnostic data, the attending physician determines the treatment tactics, which usually includes oral or subcutaneous desensitization. The department uses naturopathy as a complementary treatment option for allergies. The specialists apply acupuncture, autohemotherapy, classical homeopathy.
With appropriate clinical indications, the treatment of ENT diseases is based on the use of drug therapy and other conservative methods. Nevertheless, the department's otolaryngologists quite often resort to surgical treatment. Depending on the complexity of the upcoming surgery, doctors make a decision on the need for hospitalization – minor surgical interventions are performed on an outpatient basis. The department's specialists always prefer endoscopic and minimally invasive surgical techniques, after which recovery takes only a few days.
The department's therapeutic offer is complemented by pediatric otolaryngology. Special attention in this field is paid to newborn hearing screening, as well as to the diagnostics of hearing pathologies in young children and adolescents. In addition, pediatric otolaryngologists specialize in tonsillectomy and tonsillotomy. In the case of the first operation, the child must be hospitalized, since the intervention is carried out under general anesthesia. In some cases, tonsillectomy can be performed using a sparing coblation technique. Tonsillotomy is performed using radio frequency techniques or with the use of minimally invasive techniques. The surgical intervention is also performed under general anesthesia, but in this case there is no need for young patient hospitalization.
The department's range of medical services includes:
Conservative treatment

Pharmacotherapy
Oral and subcutaneous desensitization for allergy treatment
Naturopathy: acupuncture, autohemotherapy, classical homeopathy and neural therapy

Surgical treatment

Nasal surgery

Septoplasty
Septorhinoplasty
Radiofrequency ablation

Ear surgery

Eustachian tube dilation
Reconstructive interventions on the tympanic membrane
Middle ear surgery

Surgical removal of tonsils in children

Total removal of tonsils (tonsillectomy)
Partial removal of tonsils (tonsillotomy)
Removal of nasopharyngeal tonsils

Neck and salivary gland surgery

Removal of neck cysts
Removal of cervical lymph nodes
Removal of salivary glands

Laryngeal surgery
Plastic surgery in the face and head

Otoplasty
Rhinoplasty
Blepharoplasty
Removal of skin neoplasms and closure of defects using flap surgery
Treatment of wrinkles with botox and filler injections

Surgery for snoring treatment

Removal of palatine tonsils
Uvulopalatoplasty
Correction of deviated septum
Turbinate reduction

Other therapeutic options
Curriculum vitae of Dr. med. Shabnam Fahimi-Weber
Higher Education and Professional Career
Study of Medicine at the Universities of Mainz, Essen, Duesseldorf and Bochum.
Work in the Department of Otolaryngology at the University Hospital Bochum.
Participation and supervision of various scientific projects at the Universities of Bochum and Duesseldorf in cooperation with the Center of Advanced European Study and Research (CAESAR).
Regular participation in advanced training courses and congresses for further qualifications of the North Rhine Medical Association.
Clinical Interests
Nasal surgery.
Paranasal sinus surgery.
Facial plastic surgery.
Allergology.
Naturopathy.
Pedaudiology.
Pain management.
Memberships in Professional Societies
German Society of Oto-Rhino-Laryngology, Head and Neck Surgery (DGHNO).
German Society of Aesthetic Surgery (GÄCD).
Rhinoplasty Society of Europe.
Professional Association of Otolaryngologists.
Medical Association of German Allergists (AEDA).
Photo of the doctor: (c) Alfried Krupp Krankenhaus
Department of Adult and Pediatric Otolaryngology, Allergology, Head and Neck Surgery.
Alfried Krupp Hospital in Essen-Steele:

Request more information now.
We will be happy to answer all your questions.
---
Certificates