Alfried Krupp Hospital in Essen-Steele
Department of Otolaryngology (

158

)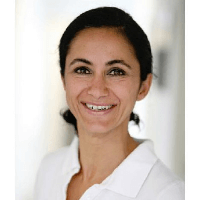 Dr. med.
Shabnam Fahimi-Weber
Specialized in: otolaryngology
About the department
The Department of Otolaryngology of the Alfried Krupp Hospital in Essen-Steele has been engaged in its activities for more than 30 years. The doctors from affiliated hospitals work in this Department. The Department of Otolaryngology in the Alfried Krupp Hospital offers a wide spectrum of medical services in the field of otolaryngology as it has state-of-the-art operating theatres and trained surgical personnel.
All the specialists-otolaryngologists have long experience and are regularly involved in the advanced training. The employees of the affiliated Department of Otolaryngology attach particular importance to the personal patient care and are always available for the patients in the inpatient facility or in the Department. This means for You that all the treatment process is up to You. This fact ensures a quick release from the hospital and the follow-up of Your doctor-surgeon. The affiliated Department of Otolaryngology is the private Department, which offers both surgical and conservative treatment of a wide range of ENT diseases by the highly-qualified staff.
Specifically, the Department of Otolaryngology of the Alfried Krupp Hospital in Essen-Steele specializes in carrying out of the following activities:
Minimally invasive surgery
Radiofrequency treatment of turbinate
Surgery of lachrymal duct obstruction
Tonsillectomy
Removal of polyps, cyst
Laryngeal surgery
Plastic and cosmetic surgery of nose, ears, skin
Diagnosis and treatment of sleep disorders, related to the breathing disorder
Treatment of snoring
Middle ear microsurgery
Surgery at ENT-organs tumors
Photo of the doctor: (c) Alfried Krupp Krankenhaus
Department of Otolaryngology.
Alfried Krupp Hospital in Essen-Steele:

Request more information now.
We will be happy to answer all your questions.
---
Certificates