Treatment of phimosis with circumcision (program ID:

51275

)
Alfried Krupp Hospital Steele Essen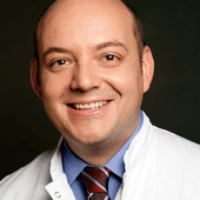 Head Physician
Dr. med.
Stephan Buse
Specialized in: urology, urological oncology
Department of Urology and Urological Oncology
Program includes:
Initial presentation in the clinic
clinical history taking
review of medical records
physical examination
urological examination
laboratory tests:

complete blood count
general urine analysis
biochemical analysis of blood
inflammation indicators (CRP, ESR)
indicators blood coagulation

ultrasound pelvic abdominal
preoperative care
treatment of phimosis in children with circumcision
symptomatic treatment
control examinations
the cost of essential medicines and materials
nursing services
full hospital accommodation
explanation of future recommendations
Required documents
Medical records
Penis photo
Service
Price:
Type of program :
Expected duration of the program:
You may also book

Price:
About the department
The Department of Urology and Urologic Oncology of the Alfried Krupp Hospital in Essen-Steele, headed by M.D. Stephan Buse, offers the full range of therapeutic services for the treatment of urologic diseases. The Department carries out the patient care in close collaboration with the therapists and highly-specialized doctors, who appoint the patients to undertake both diagnosis and treatment not only in the Department of Urology and Urologic Oncology and in other specialized Departments of the Alfried Krupp Hospital, but also in the Departments of numerous partner hospitals and medical institutions. Two Departments have 48 beds for the patient care. The Department is equipped with three endourological operating theatres while two of them have modern Siemens X-ray machines. The third operating theatre has modern surgical equipment for carrying out the transurethral resection (TUR) by means of laser tools. Thus, it is possible to put into practice all the methods of surgical treatment of prostate diseases (Thulep, laser vaporization, TURIS etc.). The operating theatres in the central operating unit are used to carry out more extensive urologic surgeries. The minimally-invasive robotic surgeries are performed in the specially equipped operating theatre.
The Department of Urology and Urologic Oncology of the Alfried Krupp Hospital in Essen-Steele, headed by M.D. Stephan Buse, offers the following specialized medical services:
Urologic Oncology – tumor surgery of the whole urogenital tract:
Kidney tumors
Bladder tumors
Prostate tumors
Tumors of the testicles and epididymis
Plastic reconstructive urologic surgeries:
Plastic operations on the kidney pelvis
Bladder replacement surgery, reconstruction of urinary tracts in both male and female patients
Reconstructive pediatric urology
Cavernous body implants
Artificial urinary sphincter implantation
Treatment of regulation functions, excretory functions (urination and defecation):
Conservative treatment of incontinence
Training on the ability to regulate excretory functions (urination and defecation): exercises for pelvic, pulse therapy, biofeedback
Surgical treatment of urinary incontinence
Sphincter prosthesis implantation
Botox injection into the bladder in case of urge incontinence
Treatment involving urinary stones:
Drug prevention of urinary stones
Extracorporeal shock wave lithotripsy (ESWL)
Endoscopic removal of urinary stones
Rehabilitation of the urinary tracts by means of open surgery
Pediatric urology:
Circumcision in case of phimosis
Cryptochridism
Conservative treatment of urinary incontinence
Man's health and andrology:
Treatment of potency disorders
Implantation of cavernous body prostheses
Treatment of male infertility
Restoration of reproductive function (after vasectomy)
Conservative and surgical treatment of penile curvature
Important developmental disorders in terms of andrology
Da Vinci robotic-assisted urological laparoscopy:
Removal of the prostate in case of prostate cancer with the prostate gland preservation
Removal of lymph nodes in pelvis
Removal of kidney cysts
Partial nephrectomy
Lymphocele fenestration
Nephrectomy in case of kidney tumors
Kidney removal (for example, in case of the diagnosed contracted kidney)
Removal of adrenal glands
Pyeloplasty
Cryptochridism
Surgeries for the reproductive function restoration (vasovasostomy)
Photo of the doctor: (c) Alfried Krupp Krankenhaus
---
About hospital
Accommodation in hospital
Phimosis
Program [Description]
Treatment of phimosis with circumcision
Hospital: Alfried Krupp Hospital Steele Essen
Type:
access_time Duration:
Price:
date_range
There are 86 phimosis treatment hospitals on Booking Health website
Show all clinics
Certificates