Asan Medical Center Seoul
Department of Allergology (

396617

)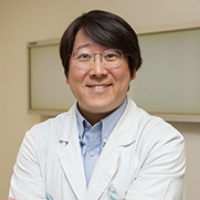 M.D., Ph.D.
Hyouk-soo Kwon
Specialized in: allergology
About the department
The Department of Allergy at the Asan Medical Center treats the whole range of allergic diseases. It provides a comprehensive treatment system that allows clinical specialists to perform a variety of tests so as to identify accurately causes of allergic disorders. An experienced staff of the department including skilled physicians, nurses and medical laboratory technologists specialized in allergy tests closely cooperate to offer the best medical care and services. Chief physician of the department is Dr. Hyouk-soo Kwon.
The only way to radically cure allergic diseases is allergen-specific immunotherapy. Therefore the department provides both subcutaneous and sublingual immunotherapy and is committed to radical cure and prevention of allergic diseases.
The department actively cooperates with the Asthma Center. The center not only conducts tests for pulmonary function, airway smooth muscle relaxation, bronchial provocation, and induced sputum, but also offers a comprehensive effective treatment of asthma, chronic obstructive lung disease (COLD) and chronic cough as well as education and counseling for proper environment management, allergen avoidance, and medication.
The main focuses of the Department of Allergology:
Allergic rhinitis
Hives
drug allergy
Food allergy
Gastrointestinal allergy
Eosinophilic disorders
Anaphylaxis
Bee venom/insect allergy
Atopic dermatitis
Contact dermatitis
Allergen-specific immunotherapy
And other allergic diseases and treatment options
Curriculum vitae
Education
Doctor of Medicine, Seoul National University
Master of Medicine, Seoul National University
Bachelor of Medicine, Seoul National University
Major Professional Experiences
Assistant Professor in UUCM AMC
Research Fellowship in Allergy, UUCM AMC
Post Doctor, NIH
Post Doctor, POSTECH
Fellowship in Allergy, Seoul National University Hospital, Seoul, Korea
Medical Residency in Seoul National University Hospital, Seoul, Korea
Internship in Seoul National University Hospital, Seoul, Korea
Photo of the doctor: (c) Asan Medical Center
Department of Allergology.
Asan Medical Center Seoul:

Request more information now.
We will be happy to answer all your questions.
---