Asan Medical Center Seoul
Department of Colon and Rectal Surgery (

396620

)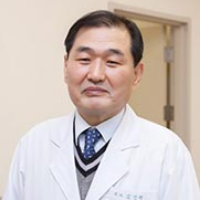 M.D., Ph.D.
Jin-cheon Kim
Specialized in: colon and rectal surgery
About the department
The Department of Colorectal Surgery at the Asan Medical Center is responsible for surgical treatments for the colon, rectum, and anal region, with a particular focus on research into the treatment of colon cancer. The department provides systematic, comprehensive patient care from diagnosis through surgery and outpatient follow-up visits to rehabilitation and education. The goal is to provide patients with a complete package of treatment. The department is the leader in this field. Chief physician is Dr. Jin-cheon Kim.
Treatment options of the colorectal cancer include chemotherapy, radiotherapy and surgery. The Radiation Oncology department is equipped with world-class cutting-edge medical system including TrueBeam, TomoTherapy, CyberKnife as well as one brachytherapy treatment machine and treats more than 5,000 patients every year. Therapy option embrace laparoscopic and robotic surgery. All in all, 1,927 primary colorectal cancer surgeries were performed in 2016.
Another focus lies on the Crohn's disease, which is treated within the Inflammatory Bowel Disease Center. The Center offers individualized medical therapy and optimal surgery for each patient by multidisciplinary team care approach. Especially, over 50% of intestinal surgery for patients with Crohn's disease is being performed by a laparoscopic approach ensuring better cosmetics and rapid recover. Apart from that, the department is applying various treatment options such as stem cell therapy to treat Crohn's disease-related complications, e.g. intractable perianal fistulae.
Treatment options of the Department of Colorectal Surgery:
Colorectal Cancer

Chemotherapy
Radiotherapy
Surgery (laparoscopic and robotic)

Crohn's Disease

Medical therapy and surgery
Stem cell therapy for perianal fistulae

Diagnosis and treatment of other diseases
Curriculum vitae
Education
Doctor of Medicine : Seoul National University.
Master of Medicine : Seoul National University.
Bachelor of Medicine : Seoul National University.
Major Professional Experiences
Chair in Dept. of Surgery,UUCM AMC.
Director in Cancer Center, UUCM AMC.
Professor in Department of Colon and Rectal Surgery, UUCM AMC.
Chair in Surgery The Armed Forces Seoul Hospital.
Invitation Prof. in Molecular Medical Research Center, University of Oxford, UK.
Research Fellow Instructor in Tumor Biology, Harvard Medical School, USA.
Clinical Instructor, Assist Professor, Associate Professor in Surgery, UUCM AMC.
Clinical Instructor in Surgery, Seoul National University Hospital.
Fellowship in Surgery, Seoul National University Hospital.
Photo of the doctor: (c) Asan Medical Center
Department of Colon and Rectal Surgery.
Asan Medical Center Seoul:

Request more information now.
We will be happy to answer all your questions.
---