Asan Medical Center Seoul
Department of Neurology (

397881

)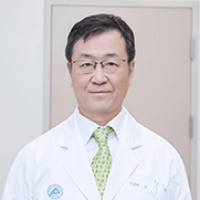 M.D., Ph.D.
Jae-young Koh
Specialized in: neurology
About the Department of Neurology at Asan Medical Center Seoul
The Department of Neurology at the Asan Medical Center provides diagnosis and medical treatment of disorders that occur in the brain and spinal cord, nerve branches (peripheral nerves), and muscles. It also serves patients who suffer dementia and strokes as well as Parkinson's disease, headaches and vertigo, intractable epilepsy, multiple sclerosis, sleep disorder, etc. The department is headed by Dr. Jae-young Koh.
Dr. Jae-Young Koh, chief physician of the department, is regarded as a leading specialist in nephrology. His clinical duties include care of stroke and dementia patients as well as general neurology patients. His research interests include mechanisms of neuronal cell death in acute brain injury such as stroke and epilepsy; treatment peculiarities of neurological disorders such as Alzheimer's disease and amyotrophic lateral sclerosis (ALS), etc.
The Department runs clinics such as the abnormal movement disorder clinic, Botox clinic, and a deep brain stimulation clinic to ease symptoms caused by Parkinson's disease as well as a sleep disorder clinic to help patients overcome sleep problems.
The range of services of the department includes:
Brain and spinal cord disorders
Nerve and muscle diseases
Dementia
Strokes
Parkinson's disease
Headaches
Vertigo
Intractable epilepsy
Multiple sclerosis
Sleep disorder
etc.
Curriculum vitae of M.D., Ph.D. Jae-young Koh
Education
Doctor of Medicine, Stanford University, California, USA.
Bachelor of Medicine, Seoul National University.
Major Professional Experiences
Professor in Neurology, UUCM AMC.
Associate Professor in Neurology, UUCM AMC.
Assistant professor in Neurology, Washington University, St. Louis, MO.
Residency in Neurology, Washington University Barnes Jewish hospital, St. Louis, MO, USA.
Internship in Medicine, University of Southern California Los Angeles County hospital, Los Angeles., CA, USA.
Photo of the doctor: (c) Asan Medical Center
Department of Neurology.
Asan Medical Center Seoul:

Request more information now.
We will be happy to answer all your questions.
---