Asan Medical Center Seoul
Department of Plastic surgery (

403254

)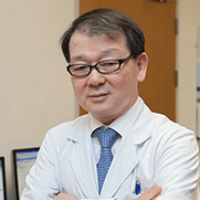 M.D., Ph.D.
Kyung-suck Koh
Specialized in: plastic surgery
About the department
The Department of Plastic surgery at the Asan Medical Center offers the latest treatment methods of the structural deformities, congenital anomalies and functional deficits. The primary goal of the department is surgical reconstruction of various congenital and acquired deformities of all anatomical areas of the human body. The department also has a unique expertise in aesthetic surgery and reconstructive surgery, e.g., after treatment of breast, head and neck, brain and skin cancers. Chief physician of the department is Dr. Kyung-suck Koh.
The range of the aesthetic surgery:
Breast surgery including augmentation and reduction mammaplasty, mastopexy etc.
Facial contouring
Eyelid surgery including upper and lower blepharoplasty, double eyelid surgery etc.
Nasal surgery including corrective, augmentation and reduction rhinoplasty, etc
Osmidrosis - Ultrasound-assisted liposuction
Body contouring including ultrasound-assisted liposuction
Correction of facial wrinkles including face lift
Scar revision
Laser including Starlux, CO2 laser, Dye laser
Hair transplantation
The range of plastic reconstructive surgery:
Congenital anomaly of face including cleft lip, palate
Reconstruction of the breast following the mastectomy for cancer
Reconstruction of the upper and lower extremities including diabetic foot
Craniofacial anomaly including craniosynostosis
Reconstruction of the head and neck following head and neck cancer surgery
Facial bone fracture including nasal bone, zygoma, orbital wall, mandible
Closed reduction / Open reduction with internal fixation / Allocartilage, Medpor absorbable mesh plate insertion
Soft tissue defect or laceration of face
Reconstruction of the eye, eyelid, nose
Correction of ptosis
Reconstruction of the congenital ear anomaly and posttraumatic deformity
Facial palsy
Reconstruction of the torso
Postburn deformity
Reconstruction following the tumor resection of whole body
And other options
Curriculum vitae
Education
Doctor of Medicine, Seoul National University.
Master of Medicine, Seoul National University.
Bachelor of Medicine, Seoul National University.
Major Professional Experiences
Professor in Plastic Surgery, UUCM AMC.
Assistant Professor in Plastic Surgery, UUCM AMC.
Associate Professor in Plastic Surgery, UUCM AMC.
Clinical fellowship in Plastic Surgery, UUCM AMC.
Residency in Plastic Surgery, Seoul National University Hospital.
Internship in Seoul National University Hospital.
Photo of the doctor: (c) Asan Medical Center
Department of Plastic surgery.
Asan Medical Center Seoul:

Request more information now.
We will be happy to answer all your questions.
---