Asan Medical Center Seoul
Department of Urology (

403262

)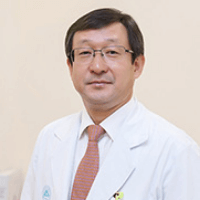 M.D., Ph.D.
Choung Soo Kim
About the Department of Urology at Asan Medical Center Seoul
The Department of Urology at the Asan Medical Center provides diagnosis and treatment of urinary system organs such as the kidney, ureter, bladder and urethra as well as male reproductive system-related organs such as the penis, testicles, seminal duct and prostate. The department specializes in treatment of oncological diseases including cancers of kidney, bladder, testicles and prostate, etc. The department has an excellent expertise in surgical treatment of urologic diseases. Chief physician of the department is Dr. Choung Soo Kim.
Focal areas of the department:
Urological oncology (kidney cancer, prostate cancer, bladder cancer, testicular cancer, penile cancer and adrenal tumor)
Prostatic diseases (prostate hypertrophy and prostatitis)
Andrology (sexual dysfunction and male infertility)
Urogynecology (bladder infection, urinary incontinence and uterine prolapse)
Dysuria (overactive bladder and neurogenic dysfunction)
Endourology (urinary stone, laparoscopic surgery and other minimally-invasive surgery)
Pediatric urology
The department is equipped with cutting-edge equipment and technologies such as extracorporeal shock wave lithotripsy, laparoscopic surgical instrument, endoscopic surgical instrument (bladder, ureter and kidney), microendoscopy, endorectal ultrasound, urodynamic study, urinary incontinence treatment device and high power laser devices. This allows the specialists of the department to perform various kinds of operations from radical operation to non-invasive laparoscopic surgery and microscopic surgery.
In addition, the department also has the Da Vinci Si/Xi Systems, which are widely used in treatment of urological tumors (kidney cancer, prostate cancer and bladder cancer) and benign urologic diseases (ureteropelvic junction obstruction and vesicoureteral reflux). The department is committed to providing world-class treatment, based on high-quality medical professionals, clinical settings and laboratories.
Curriculum vitae of M.D., Ph.D. Choung Soo Kim
Education
Doctor of Medicine, Seoul National University.
Master of Medicine, Seoul National University.
Bachelor of Medicine, Seoul National University.
Major Professional Experiences
Visiting Scholar in Urology, Duke University, USA.
Clinical Instructor, Assistant Professor, Associate Professor, Professor in Urology, UUCM AMC.
Fellowship in Urology, UUCM AMC.
Residency in Urology, Seoul National University Hospital.
Photo of the doctor: (c) Asan Medical Center
Department of Urology.
Asan Medical Center Seoul:

Request more information now.
We will be happy to answer all your questions.
---