Asklepios Childrens Hospital Sankt Augustin
Department of Pediatric Cardiothoracic Surgery (

303070

)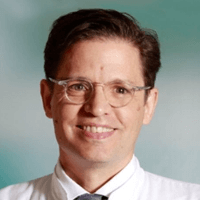 Prof. Dr. med.
Boulos Asfour
Specialized in: pediatric cardiothoracic surgery
About the department
The Department of Pediatric Cardiothoracic Surgery at the Asklepios Children's Hospital Sankt Augustin offers the full range of modern surgical interventions for the treatment of congenital heart defects. The department has an ideal infrastructure for optimal care of young patients. To ensure multidisciplinary treatment, the department maintains interdisciplinary cooperation with experts in the field of prenatal diagnostics, cardiology, intensive care, etc. With the necessary expert knowledge, long experience and medical innovations, the department occupies a leading position in its area of specialization at the European level. The department is headed by Prof. Dr. med. Boulos Asfour.
The department's specialists have special experience in the field of surgery with and without a heart-lung machine. The main goal of the department is the timely correction of congenital heart defects to prevent damage to the heart, lungs and other organs (including the brain) due to the oxygen deficiency or blood stasis. As a rule, when several cardiac defects are detected (for example, a ventricular septal defect and aortic arch stenosis), all disorders will be corrected within a single surgical procedure (simultaneous intervention).
The department has tremendous experience in the field of aortic valve reconstruction in children. In case of valve-sparing interventions, long-term anticoagulant therapy with warfarin, markumar or their analogues is not required. Due to the preservation of heart valve own tissues, the valve can grow, which is especially important during the treatment in children.
Another priority focus of the department is hybrid surgery. With certain heart defects, for example, in the case of muscle, i.e. deeply located ventricular septal defect, it will be difficult for the surgeon to detect and effectively close the defect between the numerous muscle bundles in the right ventricle. In such cases, it is advisable to conduct a hybrid intervention, in which the defect will be closed during an open operation, under echoscopic guidance. This intervention is performed in cooperation with specialists in the field of pediatric cardiology.
The department's range of medical services includes:
Surgical treatment of hypoplastic left heart syndrome (Fontan procedure)
Surgical treatment of aortic insufficiency/stenosis
Surgical correction of the incorrect position of the main vessels extending from the heart (transposition of the great vessels)
Surgical treatment of aortic isthmus stenosis
Surgical correction of Ebstein anomaly
Surgical correction of ventricular septal defect
Surgical correction of atrial septal defect
Surgical treatment of tetralogy of Fallot
Surgical treatment of persistent truncus arteriosus
Surgical correction of anomalous pulmonary venous drainage (total and partial)
Surgical treatment of pulmonary atresia
Other surgical options
The department's main areas of specialization include:
Corrective surgery with and without a heart-lung machine
Palliative surgery for single chamber heart
Minimally invasive surgery with the optimal cosmetic result
Valve-preserving interventions (for example, in case of aortic valve stenosis)
Hybrid interventions
Advanced postoperative intensive care (including ECMO)
Other areas of specialization
Curriculum vitae
Further Education and Additional Qualifications
1993 Research Fellow, Boston Children's Hospital, Harvard Medical School, Pediatric Cardiac Surgery.
1996 Research Fellow, Johns Hopkins University School of Medicine, Baltimore, Maryland, Cardiothoracic Surgery.
Further Training for Board Certification
Research Fellow of the Department of Cardiothoracic and Cardiovascular Surgery at the Westphalian Wilhelm University (Director: Prof. Dr. med. H.H. Scheld).
Membership in Medical Professional Societies
German Society of Cardiology.
German Society of Pediatric Cardiology.
German Society for Thoracic Surgery.
German Society for Cardiac and Thoracic Surgery.
Research and Teaching Activities (Scientific Interests)
Early correction of congenital heart defects.
Organ growth stimulation in the case of hypoplasia.
Treatment quality control in congenital heart defects.
Correction in the case of a single ventricle defect.
Current Teaching Activities
Congenital heart defects, Semmelweis University.
Congenital heart defects, University of Duisburg-Essen.
Congenital heart defects, University of Muenster.
Photo of the doctor: (c) Asklepios Klinik Sankt Augustin GmbH
Department of Pediatric Cardiothoracic Surgery.
Asklepios Childrens Hospital Sankt Augustin:

Request more information now.
We will be happy to answer all your questions.
---
Certificates