Department of Pediatric Pulmonology (

367503

)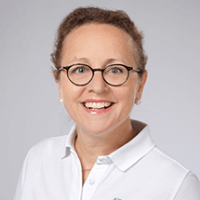 Dr. med.
Verena Mandelbaum
Specialized in: pediatric pulmonology
About the Department of Pediatric Pulmonology at ATOS Clinic Heidelberg
The Department of Pediatric Pulmonology at the ATOS Clinic Heidelberg offers the full range of services in this medical focus. The department specializes in the diagnostics and treatment of all respiratory diseases, including pulmonological diseases caused by allergic reactions. With the help of modern equipment, the department performs precise diagnostics, whereas a long experience of specialists serves as a basis for effective treatment. The department has the latest methods of treatment, which correspond to the high standards of modern medicine. The department is headed by Dr. med. Verena Mandelbaum.
The causes of lung and respiratory diseases in children and adults are quite different. In 80% of children, such pathologies are caused by allergies.
The first stage of treatment is a consultation, in which a child, parents and a doctor take part. The doctor needs to get information about the course of the disease and social environment of the child, current complaints and their impact on his/her daily life. If previously any treatments have been used, the doctor is also interested in them. Then the child will undergo a general medical examination, followed by all the necessary tests (pulmonary function tests, laboratory tests, ultrasound, etc.).
The department offers a wide range of diagnostic services:
Pulmonary function testing

Pulse oscillometry
Spirometry
Body plethysmography
Stress test on the treadmill

Active anterior rhinomanometry
Allergic tests

Blood test
Skin tests
Provocative tests

Measurement of nitrogen oxide in the exhaled air (especially in asthma and allergies)
Measurement of oxygen concentration in the inhaled and exhaled air
And other examinations
Of particular interest for the specialists of the department is the treatment of bronchial asthma in children. When prescribing therapy, the age of the child and the severity of the condition are necessarily taken into account. Much attention is paid to advising parents on medicines and their actions, which enables them to respond adequately in special situations, such as infections, sports loads or stressful situations. Treatment is based not only on the use of appropriate medicines, but also on teaching a correct behavior, adequate physical activities.
In the treatment of allergies, each patient is assigned individual therapy aimed at preventing the action of allergens. Naturally, with the appointment of therapy, the doctor is trying to find the optimal options that will entail minimal side effects.
Curriculum vitae of Dr. med. Verena Mandelbaum
1987 Assistant Physician in the Department of Pediatrics, University Hospital Heidelberg, many years of experience in emergency care (specialization pulmonology, allergology).
1993 Maternity leave (3 months).
1995 Maternity leave (1 year).
1997 Recognition as a Pediatrician, District Medical Association of Nordbaden, Karlsruhe.
2000 Additional qualification in the field of allergology, establishment of specialized practice in the treatment of respiratory diseases and allergies in children and adolescents, Heidelberg, Bergheimer Str. 10-12.
2001 Asthma Trainer.
2002 Neurodermatitis Trainer.
2009 Additional qualification: pediatric pulmonology.
2014 Chief Physician of the Department of Pediatric Pulmonology, ATOS Clinic Heidelberg.
Membership in Professional Societies
European Academy for Allergy and Clinical Immunology (EAACI).
Society of Pediatric Pulmonology (GPP).
Society of Pediatric Allergology (GPA).
German Society of Pediatric Intensive Care Medicine and Neonatology (DGPIN).
German Society of Pediatric and Adolescent Medicine (DGKJ).
Federal Association of Pediatric and Adolescent Doctors (BVKJ).
Center for the Training of Patients with Asthma and Neurodermitis (ZANS).
Organization for Quality Assessment "Allergology of the Rhine-Neckar".
Society for Cystic Fibrosis.
Private Medical Association pbv.
Photo of the doctor: (c) ATOS Klinik Heidelberg
Department of Pediatric Pulmonology.
ATOS Clinic Heidelberg:

Request more information now.
We will be happy to answer all your questions.
---