ATOS Orthopedic Clinic Braunfels
Department of Spine Surgery (

25922

)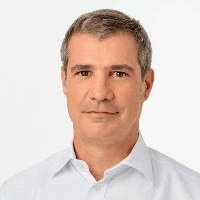 Dr. med.
Luis Ferraris
Specialized in: spinal surgery
About the Department of Spine Surgery at ATOS Orthopedic Clinic Braunfels
The Department of Spinal Surgery at the ATOS Orthopedic Clinic Braunfels specializes in the surgical treatment of degenerative disorders and hereditary diseases of all parts of the spine (scoliosis, kyphosis, malformations), as well as in the treatment of spinal trauma after accidents (fractures, dislocations). Along with surgical treatment, Dr. med. Luis Ferraris, chief physician of the department, is recognized as an expert in the conservative treatment of deformities and degenerative diseases of the musculoskeletal system.
Thanks to research activities, an international network of professional contacts and membership in a number of societies, doctors of the department constantly offer the latest diagnostic and therapeutic methods in spine surgery. The nursing staff of the department also regularly undergoes advanced training. In addition to high professional competence, priority is given to friendly, trusting treatment of patients, which contributes to the development of an individually adapted treatment program for each patient.
In particular, the department specializes in treatment of herniated discs and spinal stenosis. In particular, herniated intervertebral discs can be treated both conservatively and surgically. If conservative measures fail to achieve improvement, the protruding tissues of the intervertebral disc are removed. Then there is the possibility of treatment by making a fusion between the vertebrae or using an artificial prosthesis.
The service range of the department covers such therapeutic possibilities:
Conservative treatment for wear: physiotherapy
Minimally invasive pain therapy
Spinal fusion (spondylodesis) in herniated intervertebral discs of the cervical spine
Prosthesis of intervertebral discs in cervical spine disc prolapse
Surgical treatment of spinal stenosis
Treatment of fractures, deformations (scoliosis, kyphosis) in adolescents and adults:

Conservative therapy
Surgical treatment
Revision operations / second opinion before spinal surgery

Other treatment options in the field of back and spinal column surgery
Curriculum vitae of Dr. med. Luis Ferraris
1992 - 1995 Assistant Physician at the Naval University Hospital, Buenos Aires.
1995 - 1997 Doctor of the Department of Orthopedics, University Hospital Heidelberg.
1997 - 1998 Doctor of the Department of General Surgery, Orthopedics and Traumatology at the University Hospital Naval Pedro Mallo, Buenos Aires.
1998 Examination in orthopedics and traumatology, Buenos Aires.
1999 - 2001 Senior Physician at the University Hospital Naval Pedro Mallo, Buenos Aires.
2001 - 2005 Assistant Physician in Spinal Surgery, Werner Wicker Clinic, German Scoliosis Center, Bad Wildungen.
2003 Licensed orthopedist, Hessian Medical Association.
2006 Admission to medical practice, Federal Office of Hesse.
2005 - 2015 Senior Physician (since 2007 Leading Senior Physician) of the German Scoliosis Center at the Werner Wicker Clinic, Bad Wildungen.
Since 2015 Chief Physician of the Department of Spinal Surgery, ATOS Orthopedic Clinic Braunfels.
Membership in societies
German Society for Spinal Surgery (DGW).
Research Society of the Cervical Spine, European Department.
Spanish Society for Spinal Surgery (GEER).
Latin American Society of Orthopedics (SLAOT).
Photo of the doctor: (c) ATOS Orthopädische Klinik Braunfels
Department of Spine Surgery.
ATOS Orthopedic Clinic Braunfels:

Request more information now.
We will be happy to answer all your questions.
---