MEDIAN Rehabilitation Clinic Bad Tennstedt
Department of Orthopedic Rehabilitation (

25876

)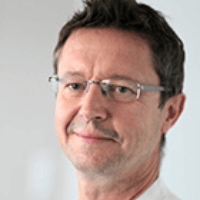 Dr. med.
Andreas Timmermann
Specialized in: oorthopedic rehabilitation
About the Department of Orthopedic Rehabilitation at MEDIAN Rehabilitation Clinic Bad Tennstedt
The Department of Orthopedic Rehabilitation at the MEDIAN Rehabilitation Clinic Bad Tennstedt provides various modern therapies to relieve pain and eliminate movement limitations in patients who have suffered orthopedic diseases and injuries, as well as surgical interventions on the musculoskeletal system. The department's rehabilitation therapists most often have to deal with the rehabilitation treatment of patients after joint replacement surgery, spinal injuries, herniated discs, as well as patients suffering from chronic back pain and osteoporosis. When admitted to the department, the patient is appointed all the necessary diagnostic tests for the assessment of his current health condition and rehabilitation potential in order to develop the most effective rehabilitation program. With appropriate indications, rehabilitation can be provided on an outpatient basis. The department is headed by Dr. med. Andreas Timmermann.
Many patients admitted to the department for rehabilitation are bedridden and require total restoration of mobility. Such clinical cases are among the most complex and require a long recovery period, as well as much effort and perseverance from the patient, since in most cases the first steps are not easy for him, which can cause despair and apathy. The department's specialists are convinced that good results of rehabilitation can be achieved only if each patient receives an individualized treatment regimen adapted to his pathology and life situation. All the rehabilitation procedures are performed under close medical supervision, which allows the doctors to monitor the progress of patients, if necessary, increase or decrease the load and intensity of training. An important component of rehabilitation is psychotherapy and regular conversations with a competent psychologist, whose main task is to deal with depressive conditions caused by orthopedic pathology and to motivate the patient for a favorable treatment outcome.
During the rehabilitation process, the patients often face the problem of being overweight. Musculoskeletal diseases and injuries lead to decreased mobility, which in turn contributes to excess weight gain. The department's nutritionists hold consultations on the appropriate nutrition and training sessions, during which patients learn to cook not only tasty, but also healthy food in the training kitchen. In addition, many patients during rehabilitation manage to get rid of bad habits and improve the body as a whole.
The department specializes in the rehabilitation of patients who have suffered the following musculoskeletal diseases and injuries:
Pathological conditions after surgical interventions on the musculoskeletal system

Surgery for spinal disc herniation, including chemonucleolysis
Surgery for bone tissue and joint diseases, including joint replacement surgery
Limb amputation surgery
Surgery for bone fractures of the musculoskeletal system, including spinal fractures
Surgery to remove a special corset placed during the previous spinal interventions
Surgery for rheumatic diseases

Pathological lesions of the musculoskeletal structures due to diseases of other organs (for example, due to poliomyelitis)
Congenital and acquired musculoskeletal diseases
Spinal disc herniation requiring conservative treatment
Functional musculoskeletal disorders
Degenerative diseases of the spine and joints
Osteoporosis
Psoriasis with joint lesions
Inflammatory diseases of the spine and joints (for example, ankylosing spondylitis)
Other orthopedic diseases and injuries
The department's range of therapeutic services includes:
Therapeutic exercises
Physiotherapy
Manual therapy
Classic massage and lymphatic drainage
Mud wraps
Electrotherapy and magnetic stimulation
Therapeutic baths and healing sulfur baths in thermal springs
Ergotherapy
Psychological care
Art therapy
Music therapy
Animal-assisted therapy
Diet therapy
Alternative treatments (for example, osteopathy, craniosacral therapy, acupressure, etc.)
Other rehabilitation procedures
Photo of the doctor: (c) MEDIAN Klinik Bad Tennstedt
Department of Orthopedic Rehabilitation.
MEDIAN Rehabilitation Clinic Bad Tennstedt:

Request more information now.
We will be happy to answer all your questions.
---
Certificates