Department of Anaesthesiology (

414191

)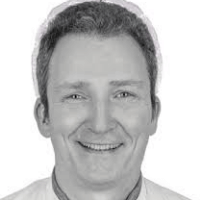 Dr. med.
Michael Bochnick
Specialized in: anesthesiology
About the Department of Anaesthesiology at Beta Clinic Bonn
The Department of Anaesthesiology at the Beta Clinic Bonn offers the full range of services in this field and specializes in the use of all proven, modern anesthetic techniques that guarantee patients complete safety during operations and other therapeutic manipulations. In addition, the department's scope of tasks also includes the provision of postoperative and outpatient pain therapy, as well as intensive care (within the interdisciplinary emergency unit). The department is headed by Dr. med. Michael Bochnick.
Thanks to the use of new, well-tolerated anesthetics, the risk of complications after anesthesia has decreased significantly in recent years. A successful outcome of anesthesia is also facilitated by extensive experience and special knowledge of the department's specialists. In addition, the department is equipped with all the necessary facilities that comply with all necessary standards and are regularly checked for their proper functionality.
It should be noted that the safety of anesthesia also directly depends on the patients themselves, as they should tell the doctor about their comorbidities, if any, to provide examination results that will identify potential individual risks and minimize them.
The department offers the following types of anesthesia:
General anesthesia (including patient-controlled analgesia)
Sedation (twilight sleep)
Regional anesthesia (anesthesia for a specific area of the body)

Spinal anesthesia
Epidural anesthesia
Plexus block
Peripheral nerve block
Other types of anesthesia

Postoperative pain therapy
Other anesthetic techniques
Curriculum vitae of Dr. med. Michael Bochnick
From 1980 to 1983, Dr. Bochnick studied Mathematics and Physics at the University of Bonn. Since 1983, he began studying Medicine at the Universities of Cologne and Bonn. In 1989 he passed the state examination.
In 1990, Dr. Bochnick started his professional medical training at the Malteser Hospital in Bonn, where he worked until 1991. In 1991, he took up his position at the Johannitter Hospital in Bonn, where he completed his internship in 1996. Here he has also received additional qualifications in the field of emergency medical care. During the training, the doctor had several internships abroad and was an intern in Salisbury, United Kingdom.
Since 2000, Michael Bochnick is an independent anesthesiologist with a license for private practice, as well as holds the position of the Chief Physician in the Department of Anesthesiology at the Beta Clinic Bonn since its inception.
Memberships
Member of the German Association of Anaesthesiologists (BDA).
Member of the British Medical Association.
Member of the British Council of Medicine.
Photo of the doctor: (c) Beta Klinik Service-, Verwaltungs- und Forschungs- GmbH
Department of Anaesthesiology.
Beta Clinic Bonn:

Request more information now.
We will be happy to answer all your questions.
---