Department of Dentistry, Implantology, Orthodontics, Aesthetic Dentistry (

414203

)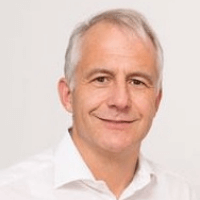 Dr. med.
Bernd G. Knoch
Specialized in: dentistry, implantology, orthodontics, aesthetic dentistry
About the department
The Department of Dentistry, Implantology, Orthodontics, Aesthetic Dentistry at the Beta Klinik offers the full range of medical services for patients who suffer from dental diseases, jaw defects and other pathologies in the facial area and oral cavity. Preventive examination and counseling are also part of the department's scope of tasks. To ensure the most effective treatment, the department is equipped with the state-of-the-art technical equipment. The department is headed by Dr. med. Bernd G. Knoch.
The department has been demonstrating high competence for more than 20 years and has won the patients' trust. Close cooperation of the doctors within the department provides optimal diagnostic capabilities for the detection and successful treatment of all oral cavity pathologies.
The department has its own Dental Laboratory, which guarantees the shortest period of production of the premium class prostheses and implants. The specialists of the department take care of the fact that the patients receive exhaustive individual consultations and comprehensive assistance on all important issues. The main purpose of the department is to maintain and preserve the health of patients' teeth and oral cavity.
Thanks to the long and successful cooperation between the dentists and dental technicians of the department, each patient can count on the production of individual, high-quality prostheses and implants. When providing dental care under general anesthesia, the team of experienced anesthesiologists monitor all vital functions, and thus provides complete safety for patients. When the procedure is completed, the patient can have a rest in the recovery room.
The service range of the department includes:
Aesthetic dentistry

Installation of veneers
All-ceramic restoration
Bleaching / whitening
Other services

Implantology

Dental implant surgery
Cone beam computed tomography / 3D implants
Other services

Dental and gum disease prevention
Periodontology
Fillings and inlays
Other dental services
Curriculum vitae
1980 - 1984 Trained as a Dental Technician.
1984 - 1985 Trained with a group of dentists in the German Army.
1989 Final exams.
1989 - 1990 Federal Ministry of Education and Research in Germany.
1990 - 1995 Studied Dentistry at the University of Bonn, Germany.
1995 Received a dental medical license.
1995 - 1996 Dental Assistant in Bonn, Germany.
Since 1998 till the present time he has been running a Private Practice near Cologne, Germany.
2004-2006 Trained as Implantologist (Karl-Häupl-Institut in Düsseldorf, Germany).
2004 Further education is German Medical Association.
2005 Functional diagnostics: systematization and evaluation.
2011-2012 Trained as Orthodontist (Harrani-Akademie in Herne, Germany).
2014/06/28 Further education in the field of radiation protection during cone beam computed tomography.
Memberships
German Society of Dentistry, Oral and Orthodontic Surgery.
German Society of Aesthetic Dentistry.
German Society of Aesthetic Medicine.
Photo of the doctor: (c) Beta Klinik Service-, Verwaltungs- und Forschungs- GmbH
Department of Dentistry, Implantology, Orthodontics, Aesthetic Dentistry.
Beta Klinik Bonn:

Request more information now.
We will be happy to answer all your questions.
---