Department of Endocrinology and Diabetology (

414209

)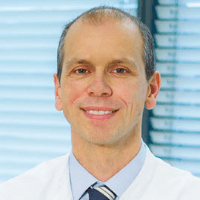 Prof. Dr. med.
Sven Schinner
Specialized in: endocrinology, diabetology
About the Department of Endocrinology and Diabetology at Beta Clinic Bonn
The Department of Endocrinology and Diabetology at the Beta Klinik offers the full range of diagnostic and therapeutic services in this field. It treats all endocrine disorders. In addition, an important clinical focus is diabetes mellitus therapy. The doctors of the department have a long experience and apply all the possibilities of modern medicine to restore the health of their patients, improve their quality of life. The department is headed by Prof. Dr. med. Sven Schinner.
The department specializes in the treatment of the following diseases:
Thyroid diseases

Thyroid nodules
Overactive thyroid (for example, Graves' disease, "hot" thyroid nodules)
Hypothyroidism (for example, Hashimoto's disease)
Thyroid cancer
Infectious thyroid diseases
Other pathologies

Osteoporosis and calcium metabolism disorders (interdisciplinary treatment in cooperation with the Departments of Radiology, Neuroradiology, Orthopedics and Neurosurgery)

Hyperparathyroidism
Hypoparathyroidism
Other diseases

Adrenal diseases

Adrenal tumors
Excess or absence of cortisol
Increased male hormone production in women
Other disorders

Pituitary diseases

Enlarged pituitary gland
Pituitary tumors
Other pathologies

Testosterone deficiency in males(hypogonadism)
Violations of the menstrual cycle and unfulfilled desire to have children (in interdisciplinary cooperation)
Diabetes mellitus
Other endocrine disorders
Curriculum vitae of Prof. Dr. med. Sven Schinner
Professor Schinner studied Medicine at the University of Goettingen (1992 - 1999). During this period he stayed abroad at the University of Padova (Italy) for an internship. He started his career with scientific studies on cellular aspects of insulin action in the Department of Pharmacology at the University of Goettingen, thereafter at the University of Cambridge (UK).
Afterwards, he performed his clinical training at the University Hospital Duesseldorf where he has been working for overall 11 years. In 2009 he has undergone board certification for Internal Medicine, and in 2010 for Endocrinology and Diabetology. In 2009 Prof. Schinner was appointed as the Consultant Physician in the Department of Endocrinology and Diabetology at the University Hospital Duesseldorf.
At the University Hospital Duesseldorf he founded his own research group and extended his scientific studies eventually leading to the postdoctoral dissertation and the appointment as the Professor of Medicine.
Prof. Schinner is an author of various scientific publications in the well-known international journals. He is a reviewer for many international scientific journals and foundations in the field of endocrinology and diabetology. He has received scientific awards for his research and he is a Member of the German Association of Endocrinology (DGE), the German Diabetes Association (DDG), the American Society of Endocrinology and the European Association for the Study of Diabetes.
Photo of the doctor: (c) Beta Klinik Service-, Verwaltungs- und Forschungs- GmbH
Department of Endocrinology and Diabetology.
Beta Clinic Bonn:

Request more information now.
We will be happy to answer all your questions.
---