Department of Sleep Medicine and Diagnostics (

414257

)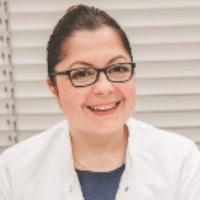 Dr. med.
Katharina Diamantis
Specialized in: sleep medicine and diagnostics
About the Department of Sleep Medicine and Diagnostics at Beta Klinik Bonn
The Department of Sleep Medicine and Diagnostics at the Beta Klinik offers the full range of services in these fields and specializes in the detection and treatment of all kinds of sleep disorders. To this end, the department has advanced medical equipment, modern treatment methods. In addition, an interdisciplinary, comprehensive approach to treatment is an important part of the successful therapy outcome, which is provided here by the first-class doctors with excellent qualifications. The department is headed by Dr. med. Katharina Diamantis.
The department has a modern Mobile Sleep Laboratory, which makes it possible to carry out all the necessary diagnostic tests at home.
The department offers a comprehensive polysomnography (in accordance with the standards of the American Academy of Sleep Medicine), which helps determine the following indicators of sleep:
Electrical activity of the brain (electroencephalography)
Electrical activity of the heart (electrocardiography)
Blood oxygen saturation (pulse oximetry)
Body temperature
Respiratory flow rate (in the mouth and nose)
Respiratory movement
Electrical activity of the muscles (electromyography)
Leg movement
Eye movement testing (electrooculogram)
Body position when sleeping
Other indicators
The therapeutic options of the department include:
Light therapy
Drug therapy
Exercise and relaxation therapy
Psychotherapy
Cognitive behavioral therapy
Botox therapy
Use of protrusion splints
Continuous positive airway pressure therapy (CPAP)
Surgical procedures to expand the respiratory tract
Other treatments
Photo of the doctor: (c) Beta Klinik Service-, Verwaltungs- und Forschungs- GmbH
Department of Sleep Medicine and Diagnostics.
Beta Klinik Bonn:

Request more information now.
We will be happy to answer all your questions.
---