Department of Sports Medicine and Rehabilitation (

414260

)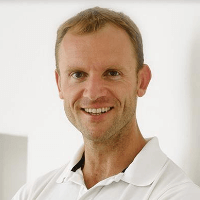 Dr. med.
Markus Klingenberg
Specialized in: sports medicine, rehabilitation
About the Department of Sports Medicine and Rehabilitation at Beta Klinik Bonn
The Department of Sports Medicine and Rehabilitation at the Beta Klinik offers the full range of services in these fields. The department takes care of the physical training and health of the professional athletes, amateur athletes, helps to improve their physical performance and prevent the emergence of injuries. In addition, the department specializes in postoperative rehabilitation and restoration of patients after various severe diseases. The department is headed by Dr. med. Markus Klingenberg.
The primary goal of examinations in the field of sports medicine is to identify complaints when doing sports. After carrying out all the necessary tests, doctors receive an exhaustive picture of the athlete's health status, on the basis of which they develop an individual concept of medical supervision and training.
The doctors of the department have a profound knowledge of their specialization, so they practice different techniques to improve physical performance. They determine the necessary amount of trainings, conduct fitness testing for athletes to determine their endurance (on an exercise bike or a treadmill), adjust the diet to enrich it with nutrients, improve the immune system and increase activity.
In the field of rehabilitation, the main task of the department's specialists is to save patients from pain in everyday life. Here are practiced effective rehabilitation techniques, including the rehabilitation of patients with the use of special rehabilitation simulators, which are designed to strengthen the muscles, improve physical endurance, etc.
The service range of the department includes:
Orthopedic examinations
Neurological examinations
Examinations to test internal organ functionality
Magnetotherapy
Fitness testing (for example, lactate threshold test, cardiopulmonary exercise testing)
Pulmonary function test
Blood test
Bioelectrical impedance analysis
Counseling on sports medicine and trainings
Special preventive examinations
Physiotherapy
Rehabilitation with the use of special simulators
Diagnostics of athlete's physical abilities
Movement screening (for example, Functional Movement Screen, Y-Balance-Test)
Radiological diagnostics (ultrasound, X-ray, CT, MRI)
Diving suitability testing
Counseling on nutrition for athletes
Other services in the field of prevention, diagnostics and therapy
Curriculum vitae of Dr. med. Markus Klingenberg
Dr. Markus Klingenberg studied Human Medicine in Bonn, Germany, and Zurich, Suisse, as well as abroad in London (England), Innsbruck (Austria) und Boston (USA). After receiving his Medical License in 2005, he worked in the Department of Radiology and Cardiology at the University Hospital Bonn, Germany.
From 2007 to 2013, Dr. Klingenberg completed his training to become a Medical Specialist in Orthopedics and Trauma Surgery in Zurich, at the Klinik am Ring in Cologne (Germany), at the Gemeinschaftskrankenhaus Bonn and at the hospital in Regensburg, Germany. His additional qualifications include sports medicine, chiropractic and emergency medical care.
Since 2014, Dr. Klingenberg has been heading the Department of Sports Medicine and Rehabilitation at the Beta Klinik.
Photo of the doctor: (c) Beta Klinik Service-, Verwaltungs- und Forschungs- GmbH
Department of Sports Medicine and Rehabilitation.
Beta Klinik Bonn:

Request more information now.
We will be happy to answer all your questions.
---