Bundeswehr Academic Hospital Berlin
Department of Ophthalmology (

569802

)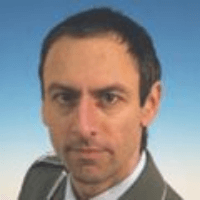 Dr. med.
Detlef Deiermann
Specialized in: ophthalmology
About the department
The Department of Ophthalmology at the Bundeswehr Academic Hospital Berlin offers the full range of diagnostics and conservative treatment of eye diseases. For these purposes, the department is fitted out with the advanced equipment, such as a special rotating high-resolution camera for corneal examination, devices for the diagnostics of fundus pathologies and intraocular pressure measurement, systems for visual field examination, pachymetry, Heidelberg retinal tomography, optical coherence tomography, etc. The department has a unique experience in the field of vision correction using laser technology and lens implantation. Before starting any therapy, the physicians critically analyze all possible risks and try to find the best treatment option adapted to the specific needs and wishes of the patient. The department is headed by Dr. med. Detlef Deiermann.
Some eye diseases can affect other organs and anatomical structures of the human body, and therefore the department's specialists work in close cooperation with the Departments of Internal Medicine, Otolaryngology, Neurology, Neurosurgery and Dermatology, thereby providing the patients with comprehensive, interdisciplinary medical care.
Thanks to the unique qualifications, first-class equipment and an interdisciplinary approach, the department's ophthalmologists can improve the patient's vision even in particularly complex clinical cases or prevent the progression of eye pathology, thereby preserving the patient's vision.
A special offer of the department is the specialized diagnostics for pilots, divers, sports boat drivers, which allows to obtain a certain category of driver's license.
The department's diagnostic and therapeutic spectrum of services includes:
Optical coherence tomography (OCT) for retinal layer imaging, especially in glaucoma and macular degeneration
Heidelberg retinal tomography for the structural examination of the optic nerve fibers in advanced diagnostics of glaucoma
Digital image analysis and photo documentation of the anterior and posterior segments of the eye, corneal measurement using the special high resolution camera (Pentacam HR)
Visual field test (computer and manual perimetry)
Examination of twilight vision, night vision and eye sensitivity to light, as well as color vision on the anomaloscope and with the help of color maps (Ishihara/Velhagen/Farnsworth)
Intraocular pressure measurement (Goldmann applanation tonometer, non-contact PASCAL Dynamic Contour Tonometer)
Ultrasound examination, ultrasound biomicroscopy, pachymetry (corneal thickness measurement)
Diagnostics of strabismus and eye movement disorders
Correction of myopia, hyperopia, including age-related one, astigmatism
Laser therapy (argon laser, YAG laser)
Outpatient operations on the eyelids and cornea (intraocular surgery, for example, operations on the retina or cataracts are not performed in the department)
Selection of the correct form of lenses using the corneal computerized measurement
Specialized diagnostics for pilots, divers, sports boat drivers, which allows to obtain a certain category of driver's license
Specialized consultations on refractive surgery, glaucoma therapy, use of contact lenses
Other medical services
Photo of the doctor: (c) Bundeswehrkrankenhaus Berlin
Department of Ophthalmology.
Bundeswehr Academic Hospital Berlin:

Request more information now.
We will be happy to answer all your questions.
---