Bundeswehr Hospital Berlin
Department of Dermatology, Allergology, Andrology and Proctology (

569805

)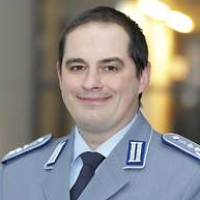 PD Dr. med.
Staffan Vandersee
Specialized in: dermatology, allergology, andrology, proctology
About the Department of Dermatology, Allergology, Andrology and Proctology at Bundeswehr Hospital Berlin
The Department of Dermatology, Allergology, Andrology and Proctology at the Bundeswehr Hospital Berlin offers all the options of modern medicine in the fields of its competence. The department specializes in the diagnostics and treatment of skin diseases, including allergic reactions. The medical facility successfully performs various types of laser therapy, surgical interventions, drug therapy with medications and ointments, as well as provides emergency medical care for skin lesions. Of particular interest is skin cancer treatment. The department has a specialized Wound Healing Center. The department's specialists have been taking care of the skin of their patients for many years, and therefore they have rich and successful clinical experience, including in the field of managing patients with rare and complex skin diseases. The dermatologists cooperate with other departments and with external partners, such as the Skin Cancer Center at the Charite University Hospital Berlin. Men with infertility, hormonal imbalances, age-related changes and other andrological diseases can also receive medical care at the medical facility. The therapeutic offer is complemented by the treatment of proctological diseases. The department is headed by PD Dr. med. Staffan Vandersee.
The department has several in-house high-tech laboratories for fast, comprehensive and accurate diagnostics of skin diseases. In addition to inpatient treatment, the healthcare facility also offers outpatient therapy, including surgery. In particular, the department has a modern outpatient Phototherapy (UVA, UVB, SUP, UVB 311nm) and Balneotherapy (bath PUVA) Unit. The medical facility also offers well-equipped treatment rooms for laser procedures. For example, laser therapy is often carried out in patients with dermatitis, eczema, neurodermatitis, skin rashes, as well as for the removal of warts, moles, age spots, scar revision, etc.
The key focus of the department's work is skin cancer treatment. Medical care includes the full range of modern diagnostics and treatment of all types of skin cancer. In addition to surgical procedures, which include operations to remove primary tumors and sentinel lymph nodes, the department performs histological examinations, immunotherapy and chemotherapy. The tasks of the department's doctors also include plastic reconstructive interventions after skin tumor resection. All diagnostic and therapeutic procedures are performed in compliance with the protocols of international and national professional societies. The department is a partner of the Skin Cancer Center at the Charite University Hospital Berlin, which guarantees its patients an excellent treatment success rate and compliance with the highest standards of modern university medicine. In addition, such a cooperation allows the doctors to quickly access innovative skin cancer treatments, which are developed with the participation of the leading German researchers.
The department has exceptional competence in the treatment of chronic wounds. This medical focus is certified by the German Dermatological Society. Chronic wounds are those that do not heal within three months, despite the necessary therapy provided. The causes of the development of chronic wounds are varied. These include chronic venous insufficiency, occlusive peripheral arterial disease, diabetes mellitus, autoimmune vasculopathies, skin infections, etc. A treatment regimen for the patients with chronic non-healing wounds is usually developed in an interdisciplinary cooperation with vascular surgeons, plastic surgeons, orthopedists, neurologists, and other physicians. The therapeutic measures are prescribed on an individual basis and may include a surgical debridement, skin plastic surgery, vacuum therapy, special bandages and other procedures.
An integral part of the department's clinical practice is the provision of medical care to the patients with allergic diseases. The specialists in this field most often deal with occupational skin diseases, hives, hay fever, dust, insect sting and drug allergies, as well as food intolerances. As a rule, both diagnostics and treatment are carried out on an outpatient basis, and hospitalization may be required only in complex cases. The department uses hyposensitization to combat allergies.
In the field of andrology, the department admits patients with suspected inflammatory lesions of the testicles and their appendages, abnormal position of the testicles, ejaculation disorders, hormonal imbalances, reproductive dysfunction in men caused by the intake of medications, chemotherapy, radiation therapy, intoxication or drugs. To treat the above-mentioned disorders, the department's specialists usually use drug therapy with modern medications. Should surgical treatment be required, minor outpatient surgical procedures will be performed.
The department's proctologists are responsible for the conservative and surgical treatment of diseases of the anus, rectum and colon. Most operations for proctological diseases are performed in the department's outpatient operating rooms, without hospitalization. The specialists have excellent professional skills in the treatment of hemorrhoids, perianal thrombosis, anal eczema, anal fissures and genital warts. The above-mentioned pathologies are detected with clinical examinations, rectoscopy, proctoscopy, microbiological, allergological and histological examinations of a smear and a biopsy sample.
The department specializes in the treatment of the following diseases:
Dermatology

Benign and malignant skin tumors
Chronic inflammatory skin diseases (for example, atopic dermatitis, psoriasis)
Skin diseases caused by pathogens (for example, erysipelas, herpes zoster, fungal infections)
Autoimmune diseases (for example, bullous skin diseases)
Acne
Sexually transmitted diseases
Diseases of the skin appendages (pathological lesions of the hair and nails)
Chronic non-healing wounds

Allergology

Hay fever
Allergic bronchial asthma
Dust mite allergy
Contact allergy and eczema, insect sting allergy
Food intolerance
Drug allergy
Occupational dermatosis

Andrology

Hormonal imbalances in men
Male infertility, including impairments of the male reproductive function caused by the intake of medications, chemotherapy, radiation therapy, intoxication or drug use
Ejaculation disorders
Inflammatory diseases of the testicles and their appendages
Underdeveloped reproductive organs (all types of hypogonadism)
Abnormal position of the testicles
Urinary tract infections in men

Proctology

Anal itching
Rectal bleeding
Fecal incontinence
Anal eczema
Hemorrhoids
Perianal venous thrombosis
Genital warts
Anal fissures
Hemorrhoidal anal skin tags

Other diseases
The department's therapeutic options include:
Dermatology

Drug therapy with pills, injections and ointments
Laser therapy
Phototherapy (UVA, UVB, SUP, UVB 311nm)
Balneotherapy (PUVA bath)
Surgical interventions, including plastic reconstructive surgery after skin tumor removal
Debridement, skin plastic surgery, vacuum therapy and the application of special bandages for the treatment of chronic non-healing wounds

Allergology

Drug therapy
Hyposensitization

Andrology

Drug therapy
Surgical interventions

Proctology

Drug therapy
Surgical interventions

Other diagnostic and therapeutic options
Photo of the doctor: (c) Bundeswehrkrankenhaus Berlin
Department of Dermatology, Allergology, Andrology and Proctology.
Bundeswehr Hospital Berlin:

Request more information now.
We will be happy to answer all your questions.
---
Certificates