Bundeswehr Academic Hospital Berlin
Department of Nuclear Medicine (

569844

)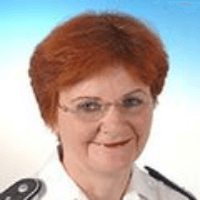 Dr. med.
Angela Mai
Specialized in: nuclear medicine
About the department
The Department of Nuclear Medicine at the Bundeswehr Academic Hospital Berlin offers the diagnostics and treatment of various diseases using modern radioactive drugs and advanced medical equipment. The diagnostic capabilities include various examinations of the thyroid gland, skeleton bones, heart, kidneys, lungs, brain, liver and biliary tract, as well as the search for foci of the inflammatory processes. In the field of therapy, the primary task of the department's doctors is the treatment of thyroid diseases (radioiodine therapy). All medical services comply with the standards of the German Society of Nuclear Medicine. The department is headed by Dr. med. Angela Mai.
In order to assess the structure and function of various organs, the department's specialists inject special radioactive chemical compounds (radiopharmaceuticals or radionuclides) into the human body, which are purposefully accumulated by the organs for the further examination. Scintigraphy involves the use of modern gamma cameras, which record the structure and metabolic processes in various organs. PET-CT is carried out in collaboration with the Charite Hospital.
A feature of the department is a specialized Radioimmunoassay Laboratory, where the doctors work on the radioactive substances. With the help of reliable research methods, the laboratory experts can detect certain concentrations of substances in the blood. The examined biological material is mixed with the radioactive substances, then it is processed in accordance with the standards and re-examined (in vitro diagnostics). Special attention in the laboratory is paid to the examination of the functional activities of the thyroid gland.
The service range of the department includes:
Diagnostic options

Scintigraphy and ultrasound examination of the thyroid and parathyroid glands
Skeletal scintigraphy (separate areas and the whole body)
Myocardial scintigraphy
Function renal scintigraphy with the detection of certain parameters
Functional pulmonary scintigraphy for the detection of circulatory disorders and ventilation
Scintigraphy in cerebral circulation disorders
Functional biliary tract scintigraphy
Functional salivary gland scintigraphy
Bone marrow scintigraphy
Special scintigraphic examinations for the identification of inflammatory processes in bones and soft tissues (particularly in the diagnostics of fever of unknown origin)
Lymph node scintigraphy (including sentinel lymph nodes) in skin cancer
Ultrasound examinations
Fine-needle aspiration biopsy
Diagnostics within the Radioimmunoassay Laboratory
PET-CT (in collaboration with the Charite Hospital)

Therapy

Pain therapy in bone metastases
Pain therapy in chronic inflammatory changes in the knee joint (radiosynoviorthesis)
Drug therapy of the thyroid diseases (radioactive iodine therapy)

Other diagnostic and treatment methods
Photo of the doctor: (c) Bundeswehrkrankenhaus Berlin
Department of Nuclear Medicine.
Bundeswehr Academic Hospital Berlin:

Request more information now.
We will be happy to answer all your questions.
---