Bundeswehr Academic Hospital Berlin
Department of Diagnostic and Interventional Radiology (

570198

)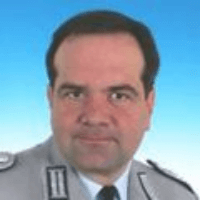 Dr. med.
Thomas Kating
Specialized in: diagnostic and interventional radiology
About the department
The Department of Diagnostic and Interventional Radiology at the Bundeswehr Academic Hospital Berlin offers the full range of high-tech diagnostics and treatment in these medical fields. The special focuses of the department are angiography (vascular imaging diagnostics), x-rays of the skeleton, spinal column, and comprehensive cancer diagnostics. In addition, the department's doctors specialize in performing imaging-guided interventional procedures (minimally invasive procedures). The department also pays special attention to the observance of radiation protection standards. The Chief Physician of the department is Dr. med. Thomas Kating.
The department conducts all types of X-ray examinations, with the exception of mammography. These include classic x-ray diagnostics, computed tomography (CT), magnetic resonance imaging (MRI) and ultrasound diagnostics. All studies are performed using the ultramodern devices with low radiation levels. The advantage of the department is also the use of the fully digital data storage and exchange system, which helps to optimize the treatment process.
The department's competence also includes the treatment of a wide range of diseases with radiological interventions (minimally invasive procedures). For example, the pathological changes in blood vessels are detected and treated under x-ray guidance (angiography). To treat vascular stenosis, the doctors mostly perform balloon dilatation of certain sections of the vessels (percutaneous transluminal angioplasty) or stent implantation (stenting). The department performs procedures for tissue sampling (biopsy) and therapy for chronic spinal pain under imaging guidance using computed tomography (CT) or ultrasound. The use of these methods allows to ensure the best possible accuracy during the manipulation.
The service range of the department includes:
Diagnostic radiology

All conventional X-ray examinations (except for mammography)
Computed tomography (CT)
Magnetic resonance imaging (MRI)
Ultrasound diagnostics
Angiography (vascular imaging)

Interventional radiology

Percutaneous transluminal angioplasty
Stenting
Imaging-guided biopsy
Imaging-guided puncture

Special methods

Imaging diagnostics for the specialized centers of the hospital (for example, for the Hernia Center, the Center for Chronic Wounds, the Trauma Center)
Radiological diagnostics of skeletal and spinal bones
Angiography and vascular interventions
Multisection cardiac imaging

Other diagnostic and therapeutic options
Photo of the doctor: (c) Bundeswehrkrankenhaus Berlin
Department of Diagnostic and Interventional Radiology.
Bundeswehr Academic Hospital Berlin:

Request more information now.
We will be happy to answer all your questions.
---