Bundeswehr Academic Hospital Berlin
Department of Dentistry, Oral Surgery and Periodontology (

570204

)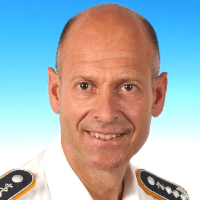 Dr. med. Dr. dent.
Michael-Peter Makosch
Specialized in: dentistry, oral surgery, parodontology
About the department
The Department of Dentistry, Oral Surgery and Periodontology at the Bundeswehr Academic Hospital Berlin offers the full range of services in these medical fields. The department specializes in implantology, surgical interventions in the oral cavity and treatment of periodontal diseases (periodontium). The department performs over 1,400 outpatient surgical procedures and about 300 implantations annually. The clinical practice is based on the current recommendations of the German Society for Dental, Oral and Maxillofacial Surgery, which ensures an excellent and long-term therapy outcome. The Chief Physician of the department is Dr. med. Dr. dent. Michael-Peter Makosch.
The department has ultramodern dental offices, which are equipped with standard and innovative devices for the effective imaging-guided treatment. In collaboration with the Department of Anesthesiology, the surgical treatment is performed under general anesthesia. The department's specialists care not only about the positive treatment outcome from a medical point of view, but also about the aesthetic aspect, so they carefully select the optimal treatment option, which allows the patient to have a beautiful smile and relieve him of any complexes.
On the basis of the department, there is a high-tech Dental Laboratory, in which dressings and splints are made for the surgical interventions. The repair of damaged prostheses, as well as partial dentures and splints is carried out here for the correction of malocclusion during the functional therapy.
The service range of the department includes:
General dentistry

Root canal filling and treatment
Teeth restoration using dentures (for example, CAD/CAM technology, ceramic restoration)
Aesthetic dentistry
Treatment of dental and periodontal diseases
Installation of special splints in order to prevent snoring

Oral surgery

Installation of implants, bone augmentation
Surgical procedures on the gums
Tooth extraction (including the surgical one)
Root apex resection, surgical methods for the preservation of teeth, cystectomy
Treatment of injuries (interdisciplinary medical care in injuries of the head, skull and face)
Treatment of purulent tooth infections
Diagnostics of changes in the oral mucosa and removal of small tumors
Interdisciplinary treatment of myofascial pain

Periodontology

Systemic antibacterial therapy in periodontitis/peri-implantitis
Treatment of periodontitis in patients with general common diseases
Plastic surgery of the gums and bones (for example, closure of the open dental neck)
Prevention and individual care, supportive therapy in periodontitis
Periodontitis risk assessment
Microbiological and genetic diagnostics
Dental Laboratory
Panoramic radiographs
Digital volume tomography

Other diagnostic and therapeutic options
Photo of the doctor: (c) Bundeswehrkrankenhaus Berlin
Department of Dentistry, Oral Surgery and Periodontology.
Bundeswehr Academic Hospital Berlin:

Request more information now.
We will be happy to answer all your questions.
---