Catholic Clinic Koblenz-Montabaur
Department of General and Abdominal Surgery (

588489

)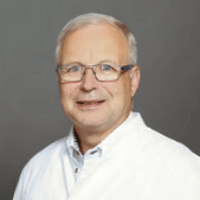 Dr. med.
Michael Düsseldorf
Specialized in: general and abdominal surgery
About the Department of General and Abdominal Surgery at Catholic Clinic Koblenz-Montabaur
The Department of General and Abdominal Surgery at the Catholic Clinic Koblenz-Montabaur offers the full range of surgical treatment of diseases of the abdominal organs. One of the priority focuses is emergency medical care in acute abdominal diseases. To receive the most effective results in particularly difficult cases, the department involves specialists from the related fields, such as gastroenterologists, therapists, etc. The department also includes the Competence Center for Hernia Repair, which is certified in accordance with all German standards in this medical field. The department's surgeons are highly competent in the field of inguinal, umbilical and diaphragmatic hernia repair. The department is headed by Dr. med. Michael Düsseldorf.
The department's surgeons prefer minimally invasive surgery, which today has become the gold standard of surgical treatment in developed countries. The sparing minimally invasive techniques are mostly used in diseases, such as inguinal hernia, diaphragmatic hernia, gastroesophageal reflux, morbid obesity, large intestine diseases, appendicitis, as well as pathologies of the liver, gallbladder and spleen. Such operations are performed through small skin incisions, which provides a number of advantages, such as fast recovery, minimal pain, low risk of developing postoperative complications.
However, in some cases, it is impossible to avoid open surgery. Such interventions are also carried out at the highest level in the department. The clinical practice involves the use of cutting-edge surgical computer systems and precision instruments, which in combination with the experience and competence of surgeons ensures the most favorable intervention outcome. In particular, the operating rooms are equipped with ultrasonic scissors, high-frequency coagulators and neuromonitoring systems for visual and ultrasound imaging of nerve endings.
The therapeutic service range of the department includes:
Surgical oncology

Removal of stomach tumors
Removal of tumors of the colon, rectum, pancreas, liver and soft tissues
Intravenous implantation of injection ports

Hernia repair

Minimally invasive inguinal hernia repair
Outpatient treatment of inguinal hernia
Reconstruction of the anterior abdominal wall
Use of individually adaptable meshes for the treatment of hernias
Diaphragmatic hernia repair

Proctological surgery

Surgical treatment of hemorrhoids, including Longo hemorrhoidectomy
Rectal prolapse surgery
Treatment of anal fistulas and rectal fistulas

Thyroid and parathyroid surgery

Partial or total thyroid removal
Monitoring of the state of the recurrent nerve and vocal cords during surgery

Bariatric surgery

Sleeve gastroplasty
Gastric bypass surgery
Gastric banding

Other medical services
Photo of the doctor: (с) Katholischen Klinikum Koblenz - Montabaur
Department of General and Abdominal Surgery.
Catholic Clinic Koblenz-Montabaur:

Request more information now.
We will be happy to answer all your questions.
---
Certificates