Catholic Clinic Koblenz-Montabaur
Department of General and Interventional Cardiology, Internal Intensive Care (

588504

)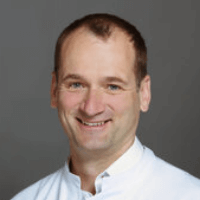 PD Dr. med.
Felix Post
Specialized in: general and interventional cardiology, internal intensive care
About the department
The Department of General and Interventional Cardiology, Internal Intensive Care at the Catholic Clinic Koblenz-Montabaur offers the full range of diagnostics and interventional therapy of cardiovascular diseases. The therapeutic offer is complemented by internal intensive care, including extracorporeal procedures. The department is headed by PD Dr. med. Felix Post.
The department has two modern Cardiac Catheterization Laboratories. The department also includes a Chest Pain Unit certified by the German Society of Cardiology..The purpose of all employees of this unit is to provide prompt and effective therapy in acute chest pain, which most often indicate heart attack. The department has at its command the advanced equipment for the effective diagnostics, which helps to identify the exact cause of pain. In the case of heart attack, the patient is urgently transferred to the Cardiac Catheterization Laboratory for emergency treatment.
In addition to the high-class medical service, the department's patients enjoy a pleasant atmosphere, friendly attitude from the medical staff and attentive medical care
The diagnostic and therapeutic service range of the department includes:
Diagnostic and interventional heart catheter diagnostics (round-the-clock)
Rotablation
Interventional closure of open foramen ovale/atrial septal defect
Atrial appendage closure
Myocardial biopsy
Valvuloplasty in valvular heart diseases
Intravascular ultrasound (IVUS)
Fractional flow reserve measurement
Stress and resting right heart catheterization
Transthoracic and transesophageal echocardiography
Doppler echocardiography (color Doppler imaging)
Stress echocardiography (using pharmaceuticals or ergometry)
3D echocardiography
Doppler ultrasound of blood vessels
Ultrasound examination of the abdominal cavity and thyroid gland
Puncture (for diagnostic and therapeutic purposes)
Stress ECG
Tilt table test
24-hour blood pressure monitoring
24-hour ECG monitoring
Comprehensive laboratory diagnostics in acute symptoms and suspected myocardial infarction
Cardiac MRI
Cardiac CT
Interventions on the peripheral and cervical vessels
Transcoronary ablation in septal hypertrophy
Internal intensive care (including extracorporeal procedures)
Other medical services
Photo of the doctor: (с) Katholischen Klinikum Koblenz - Montabaur
Department of General and Interventional Cardiology, Internal Intensive Care.
Catholic Clinic Koblenz-Montabaur:

Request more information now.
We will be happy to answer all your questions.
---