Catholic Clinic Koblenz-Montabaur
Department of Thoracic Surgery (

588531

)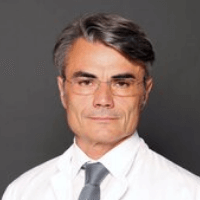 PD Dr. med.
Martin Hürtgen
Specialized in: thoracic surgery
About the Department of Thoracic Surgery at Catholic Clinic Koblenz-Montabaur
The Department of Thoracic Surgery at the Catholic Clinic Koblenz-Montabaur offers the full range of surgical treatment of benign and malignant diseases of the lungs, pleura, thorax and mediastinal organs. The department's doctors specialize not only in the treatment of malignant tumors and metastases in the lungs, thoracic wall and mediastinal organs, but also provide therapy for such benign diseases as pleural effusion, lung abscess, emphysema and pneumothorax. Surgical options cover specialized diagnostic methods, minimally invasive surgery and extensive complex operations. The department is headed by PD Dr. med. Martin Hürtgen.
The department's surgeons are internationally recognized experts in minimally invasive surgery. The first minimally invasive removal of the lung lobe in Rhineland-Palatinate was performed in this department. Minimally invasive interventions are performed through small incisions between the ribs. In the case of this type of treatment, the patient experiences minimal pain, can breathe better and recovers faster after surgery.
The Chief Physician of the department, PD Dr. med. Martin Hürtgen, jointly with the medical team developed innovative surgical procedures – video-assisted mediastinoscopic lymphadenectomy and mediastinoscopic ultrasonography. The specialists not only from Germany and Europe, but also from Japan are striving to master these newly developed techniques. With this end in view, they come to the medical facility independently or invite the department's surgeons to share their experience.
One of the department's priorities is the treatment of malignancies of the lungs, respiratory tract or thoracic wall. After an accurate diagnosis, the specialists from all related fields (pulmonologists, thoracic surgeons, oncologists, radiologists, radiation therapists, psycho-oncologists and others) cooperatively consider each clinical case and develop an optimal treatment concept. If desired, the patient can also participate in clinical trials of innovative treatment techniques. The department is proud of its outstanding results in the field of lung cancer treatment, thanks to which it has received the certification of the specialized Lung Cancer Center from the German Cancer Society.
The service range of the department includes:
Lung cancer treatment

Sparing treatment with minimally invasive surgical techniques at the initial stages

Video-assisted mediastinoscopic lymphadenectomy
Thoracoscopic lobectomy

Combined treatment methods in advanced stages of lung cancer

Preoperative chemotherapy or radiation therapy
Extensive resection of lung tumor along with thoracic wall and other thoracic organs
Postoperative treatment using chemotherapy or radiation therapy

Surgery of metastases in the lungs, thoracic wall and mediastinal organs

Lung metastases

Minimally invasive thoracoscopic resection of single metastases
Removal of multiple lung metastases using special laser

Thoracic wall metastases

Minimally invasive palliative removal of certain ribs
Extensive resections of the thoracic wall and radiation necrosis of the thoracic wall followed by plastic surgery (in collaboration with plastic surgeons)

Mediastinal metastasis

Videomediastinoscopic diagnostics and palliative resection of lymph node metastases

Tracheal surgery

Tracheal segmental resection with end-to-end anastomosis
Surgery for tracheal and laryngeal stenosis (in collaboration with the Department of Otolaryngology)
Palliative endobronchial recanalization and stent implantation

Surgery for thoracic wall and mediastinal tumors

Surgery in primary thoracic wall tumors
Extensive medical resection of mediastinal tumors using sternotomy or thoracoscopic thymectomy (depending on the results of histological examination and cancer stage)
Minimally invasive sampling for histological examination before chemotherapy or radiation therapy

Lung, thoracic wall and tracheal laser surgery
Minimally invasive surgery (video-assisted thoracoscopic surgery)

Pneumothorax
Hyperhidrosis (pathological sweating)
Diaphragm paralysis
Pulmonary emphysema
Solitary pulmonary nodules
Pleural effusion and pleural empyema
Video-assisted mediastinoscopic lymphadenectomy
Thoracoscopic lobectomy

Surgical bronchoscopic interventions

Tracheal stent placement
Recanalization of tumor stenoses
Bronchoscopy under general anesthesia (if necessary, with foreign body removal)

Other diseases and surgical options
Curriculum vitae of PD Dr. med. Martin Hürtgen
Education
1977 - 1983 Study of Human Medicine at the University of Würzburg.
1983 - 1984 Internship, Department of Surgery, University of Basel, Kanton Hospital, Switzerland; Department of Neurology at the University Hospital Würzburg; Department of Internal Medicine at the University Hospital Würzburg.
Qualifications
May 1984 Final Examination, University of Würzburg.
February 1985 Doctoral thesis and the title of Doctor of Medicine, University of Würzburg.
March 1988 Major of Army Medical Service.
October 1992 Board certification in Surgery, Hessen Medical Association.
1996 Board certification in Thoracic Surgery, Medical Association of North Württemberg.
February 2007 Lieutenant colonel of the Army Medical Service.
March 2011 Habilitation, PD, University of Mainz.
Photo of the doctor: (с) Katholischen Klinikum Koblenz - Montabaur
Department of Thoracic Surgery.
Catholic Clinic Koblenz-Montabaur:

Request more information now.
We will be happy to answer all your questions.
---
Certificates