Clinic Bad Trissl Oberaudorf
Department of Oncology (

695982

)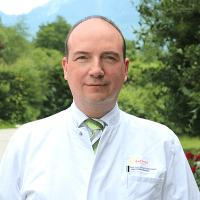 Dr. med.
Roland Reibke
About the Department of Oncology at Clinic Bad Trissl Oberaudorf
The Department of Oncology at the Clinic Bad Trissl Oberaudorf offers comprehensive treatment of localized malignant tumors and metastatic cancer of various organs. The department's medical team is focused on individualized medical care, and therefore doctors carefully study the diagnostic results of each patient, assess his general and psychological state, and then prescribe the optimal complex of therapeutic measures. The doctors of the medical facility have in their arsenal various classical conservative methods for cancer treatment: chemotherapy, radiation therapy, hormone therapy, antiangiogenic therapy, targeted therapy, hyperthermia and immunotherapy. To increase the effectiveness of the above types of treatment, complementary medicine and naturopathy methods are additionally used. Also, the clinic offers various rehabilitation techniques for body restoration. An important role is played by diet therapy, which allows adjusting the level of nutrients and making up for deficiencies in the body. In addition, psychological care for patients and their loved ones is an integral part of the therapeutic process, since a positive attitude towards the forthcoming treatment significantly increases its success. The patients with terminal cancer are offered quality palliative care to relieve pain and ensure a better quality of life. The Head Physician of the department is Dr. med. Roland Reibke.
The department's doctors are recognized experts in their field of expertise, monitor innovations in oncology and successfully implement them in their clinical practice. The specialists devote enough time to studying the patient's diagnostic results and clinical data in order to develop the most effective treatment regimen. In particularly difficult cases, interdisciplinary tumor boards are organized with the specialized doctors from the University Hospital of Ludwig Maximilian University of Munich, which is one of the best university hospitals not only in Germany, but throughout Europe.
In most cases, chemotherapy is an integral part of the cancer treatment protocol. The department uses highly effective chemotherapy regimens to suppress tumor growth or even destroy it completely. The optimal drugs and their dosages are determined by the attending physician, depending on the type of oncopathology and its stage. If indicated, the department doctors also use hyperthermia to enhance the effect of chemotherapy. Also, various methods of naturopathy, physiotherapy and other procedures are often prescribed.
One of the innovative methods actively used by the department's doctors is immunotherapy. The essence of this treatment technique is to block signals that allow malignant cells to hide from the immune system. Thus, immunotherapy allows for the activation of the patient's own immunity in order to destroy atypical cells.
The department's medical team also specializes in targeted therapy. In terms of its mechanism of action, targeted therapy is somewhat similar to chemotherapy, but there is one significant difference. Chemotherapy destroys all cells indiscriminately, and the use of targeted drugs allows acting on malignant cells without damaging the healthy ones. Targeted therapy attacks, but does not kill, cancer cells, so cancer progresses more slowly, which can extend the life of a person with cancer for years.
The department's doctors are convinced that classical treatment methods are not enough for a successful victory over cancer, and therefore the method of integrative oncology is widely used here. This approach makes it possible to alleviate the side effects of basic therapy and to activate the person's own immunity to combat oncopathology. Many patients are advised to carry out individually adapted infusion therapy with micronutrients, which improves immunity, restores normal metabolic processes in the body and protects the mucous membranes.
Cancer treatment depletes the body, which is why the department's doctors offer the full range of rehabilitation measures to reintegrate the patient into a normal life. The medical facility offers rehabilitation techniques such as physiotherapy, sports therapy, occupational therapy, speech therapy, art therapy, relaxation techniques and diet therapy. Throughout the course of treatment and at the stage of rehabilitation, experienced psychologists work with the patient. They conduct individual conversations with patients and their relatives, allowing them to restore mental balance and believe in life after cancer.
The department's therapeutic options include:
Classic and innovative cancer treatment methods (conservative)

Chemotherapy
Radiation therapy
Hormone therapy
Targeted therapy
Immunotherapy
Antiangiogenic therapy
Hyperthermia

Integrative oncology techniques

Psychological care
Diet therapy
Phytotherapy
Individually adapted micronutrient infusion therapy
Naturopathy methods

Rehabilitation measures

Physiotherapy
Sports therapy
Occupational therapy
Speech therapy
Art therapy
Relaxation techniques
Psychological care

Other treatment methods
Curriculum vitae of Dr. med. Roland Reibke
University Education and Professional Career
Since October 2017 Head Physician of the Department of Oncology at the Clinic Bad Trissl Oberaudorf.
June 2015 - September 2017 Senior Physician in the Department of Oncology and Hematology at the City Hospital Munich.
February 2004 - May 2015 Doctor at the University Hospital of Ludwig Maximilian University of Munich, including a specialist in allogeneic bone marrow transplantation.
September 2003 - December 2003 Intern, Department of Neurology at the University Hospital Duesseldorf.
April 1998 - July 2003 Postdoctoral Fellow, German Center for Cancer Research, specialization: oncoimmunology.
June 2002 - August 2002 Student, Memorial Sloan Kettering Cancer Center, New York, USA.
February 2002 - May 2002 Student, Cedars Sinai Medical Center, Los Angeles, California, USA.
1995 - 2002 Student, Human Medicine Studies, University of Heidelberg.
Photo of the doctor: (c) Klinik Bad Trissl
Department of Oncology.
Clinic Bad Trissl Oberaudorf:

Request more information now.
We will be happy to answer all your questions.
---
Certificates