Clinic de Genolier Genolier
Department of Urology (

603871

)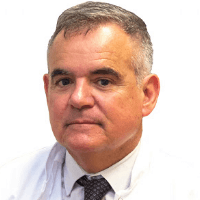 Dr. med.
Daniel Chevallier
About the Department of Urology at Clinic de Genolier Genolier
The Department of Urology at the Clinic de Genolier Genolier offers the full range of diagnostics and treatment of diseases of the male reproductive organs. Also, the scope of tasks of the department's doctors includes the treatment of the urinary tract pathologies in men and women. The department is headed by Dr. med. Daniel Chevallier.
The department's specialists have a unique experience in the treatment of benign prostatic hyperplasia, kidney stone disease, kidney tumors, bladder, prostate and testicles, functional neurological disorders of the bladder, urinary tract infections, etc.
Considerable importance is attached to the individual approach to each patient, so the doctors hold comprehensive consultations and all the necessary examinations, after which they select the optimal treatment strategy in accordance with the particular clinical indications. The innovative diagnostic equipment and progressive sparing techniques, some of which are only available here, guarantee the highest quality of treatment.
The doctors of the department have to deal with the diagnostics and treatment of the following urological diseases:
Cancer of the male reproductive system

Prostate cancer
Testicular cancer
Penile cancer

Kidney stone disease
Urethral stricture
Prostatitis
Infectious diseases of the genitourinary system in men
Benign prostatic hyperplasia
Erectile dysfunction (impotence)
Male infertility
Cystitis
Other pathologies
Photo of the doctor: (c) Clinique de Genolier
Department of Urology.
Clinic de Genolier Genolier:

Request more information now.
We will be happy to answer all your questions.
---