Treatment of cervical spinal disc herniation with discectomy and intervertebral disc prosthesis (program ID:

396875

)
Clinic Générale Fribourg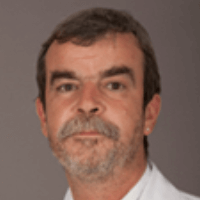 Head Physician
Dr. med.
Philippe Otten
Specialized in: neurosurgery
Department of Neurosurgery
Program includes:
Initial presentation in the clinic
clinical history taking
review of medical records
physical examination
laboratory tests:

complete blood count
general urine analysis
biochemical analysis of blood
inflammation indicators (CRP, ESR)
indicators blood coagulation

neurological examination
functionality x-ray of the spine
CT/MRI scan of the spine
neuropsychological tests (on indications):

ENMG (electroneuromyography)
SEPs (somatosensory evoked potentials)

preoperative care
discotomy and joint replacement of intervertebral disc
postoperative control
symptomatic treatment
control examinations
the cost of essential medicines and materials
nursing services
full hospital accommodation
developing of further guidance
Required documents
Medical records
X-ray of the cervical spine (if available)
MRI/CT scan of the cervical spine (if available)
Service
Price:
Type of program :
Expected duration of the program:
You may also book

Price:
About the department
Pain in the back is one of the most frequent reasons why people seek medical assistance. Unfortunately, in some cases surgical intervention cannot be avoided. In our clinic, neurosurgery is a highly developed branch of medicine. To cure pain in the back, we rely on the experience and knowledge of the world-renowned neurosurgeons, team of experienced anesthesiologists as well as the latest technologies. Intervertebral herniation can occur, among others, due to the prolonged sitting at the computer. If non-surgical methods do not give any positive result, the patient must undergo a surgery for herniated disc. Our neurosurgeons and anesthesiologists use only advanced technologies and techniques that allow the patient to quickly return to his or her normal life.
Photo of the doctor: (c) Clinique Générale Ste-Anne
---
About hospital
Accommodation in hospital
Cervical spinal disc herniation
Program [Description]
Treatment of cervical spinal disc herniation with discectomy and intervertebral disc prosthesis
Hospital: Clinic Générale Fribourg
Type:
Duration:
Price:
date_range
There are 92 cervical spinal disc herniation treatment hospitals on Booking Health website
Show all clinics