Department of Pulmonology and Pulmonary Rehabilitation (

586932

)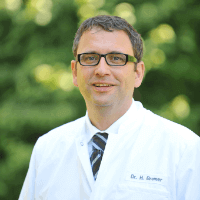 Dr. med.
Hinrich Bremer
Specialized in: pulmonology, pulmonary rehabilitation
About the Department of Pulmonology and Pulmonary Rehabilitation at Clinic Limberger
The Department of Pulmonology and Pulmonary Rehabilitation at the Clinic Limberger offers the full range of treatment and rehabilitation for thoracic diseases. The department is a highly specialized medical institution in its field of activities. Over the course of many years of successful clinical practice, the department's doctors have been able to develop many effective methods for recovering patients even in particularly complex cases. All rehabilitation measures meet the stringent requirements of professional national and international societies. The Chief Physician of the department is Dr. med. Hinrich Bremer.
The department specializes in the rehabilitation of patients with the following diseases and pathological conditions:
Bronchial asthma
Bronchiectasis
Chronic, incurable cough of unknown origin
Chronic obstructive bronchitis with and without emphysema (COPD)
Pulmonary heart disease
Interstitial lung diseases, pulmonary fibrosis
Cystic fibrosis in adults
Food allergies
Non-invasive artificial lung ventilation for chronic respiratory failure
Pre- and postoperative rehabilitation for tumors of the respiratory tract, lungs and pleura
Allergic rhinoconjunctivitis, neurodermatitis
Sleep-related breathing disorders (obstructive sleep apnea)
Conditions after a pulmonary embolism
Conditions after pneumonia (all forms)
Other pulmonary diseases
The therapeutic options of the department include:
Therapeutic physical training and kinesiotherapy

Individual physiotherapy (manual physiotherapy, proprioceptive neuromuscular facilitation, walking training)
Individual training plan using special medical simulators, isometric strength measurement
Water aerobics (individually and in groups)
Individual and group breathing exercises, reflex breathing therapy
Special set of exercises to strengthen the veins, pelvic floor, back and cardio workout
Therapeutic exercises with music
Therapeutic exercise with Scandinavian and classic walking, stretching, archery and treadmill

Physiotherapy

Therapeutic massage (classic massage, reflex foot massage, vibratory massage, etc.)
Lymphatic drainage massage
Fango, clay, hot roller thermotherapy, thermal wraps, cryotherapy
Hydrotherapy, medicinal baths, galvanic baths, baths for arms and legs, sitz baths, dousing, walking in water
Electrotherapy
Inhalation therapy using special aerosols and ultrasound inhalation
Acupuncture and acupressure

Psychological care

Individual and group conversations with a competent psychologist
Smoking refusal
Stress management
Relaxation therapy using autogenic training and muscle relaxation

Diet therapy

Individual and group counseling with a nutritionist
Training kitchen
Training to buy the right foods

Other medical services
Photo of the doctor: (c) Klinik Limberger
Department of Pulmonology and Pulmonary Rehabilitation.
Clinic Limberger:

Request more information now.
We will be happy to answer all your questions.
---
Certificates