Department of Orthopedic Rehabilitation (

114091

)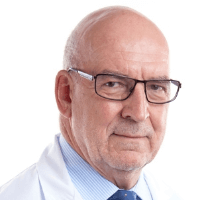 Dr. med.
Hubert Raemy
Specialized in: orthopedic rehabilitation
About the Department of Orthopedic Rehabilitation at Clinic Valmont Montreux
The Department of Orthopedic Rehabilitation at the Clinic Valmont Montreux offers the full range of medical services in the area of its specialization. The department admits for rehabilitation patients with degenerative or inflammatory diseases of the bone system, joints and spine, as well as with the consequences of fractures. The Chief Physician of the department is Dr. med. Hubert Raemy.
The rehabilitation program is developed for each patient individually with the participation of physiotherapists, occupational therapists, nutritionists, psychologists and, if necessary, orthopedic surgeons and rheumatologists. The aim of all rehabilitation measures is to maximally restore the patient's mobility and improve his quality of life. The exceptional professionalism of the doctors, as well as the impeccable technical equipment of the department, guarantee patients the best results.
The department specializes in rehabilitation for the following orthopedic diseases and pathological conditions:
Conditions after joint replacement (hip, knee, shoulder)
Conditions after musculoskeletal injuries (especially after surgical treatment)
Conditions after polytrauma
Conditions after spinal disc herniation repair surgery
Condition after lumbar spine arthrodesis
Conditions after surgery for spinal stenosis
Chronic diseases and chronic pain syndromes
Inflammatory rheumatic diseases (for example, rheumatoid arthritis, fibromyalgia)
Other pathological conditions and diseases
The therapeutic service range of the department includes:
Physiotherapy

Restoration of joint functions, muscle system
Restoration of motor skills with the help of improved muscle tone
Provision of early verticalization
Endurance training for the restoration of walking skills
Balance improvement
Increased range of motion in various joints
Pool activities

Adaptive physical training

Training on a bicycle ergometer and a classic exercise bike for endurance improvement
Training of dynamic and static balance, climbing for the coordination of movements of the upper and lower limbs
Reaction development by means of sports games

Occupational therapy

Restoration of maximum independence in everyday life: personal hygiene, dressing, cooking, etc.
Restoration of sensitivity
Restoration of the functions of the arm, hand and fingers
Training on the Wii Balance Board simulator for balance improvement

Neuropsychological care using card games, special computer programs

Memory restoration
Restoration of cognitive functions
Restore ability to plan further actions
Improvement of information processing speed

Speech therapy for speech recovery
Manual therapy
Electrotherapy
Cryotherapy
Hydrotherapy
Thermotherapy
Balneotherapy
Other rehabilitation measures
Curriculum vitae of Dr. med. Hubert Raemy
Professional Career
2014 Head of the Department of Orthopedic Rehabilitation, Clinic Valmont Montreux.
2007 - 2014 Orthopedic Surgeon, Hospital in Freiburg.
1985 - 2014 Private Practice, Freiburg.
1985 - 2007 Surgeon, Garcia and Sainte-Anne Private Clinic, Freiburg.
1985 - 1991 Consultant in Orthopedic Surgery, Hospital in Freiburg.
Education
1985 Board certification in Orthopedics and Orthopedic Surgery.
1984 Doctorate in Medicine, Universities of Freiburg and Basel.
Photo of the doctor: (c) Clinique Valmont
Department of Orthopedic Rehabilitation.
Clinic Valmont Montreux:

Request more information now.
We will be happy to answer all your questions.
---