Dental Clinic Indexmedica Krakow
Department of Dentistry and Dental Surgery (

318812

)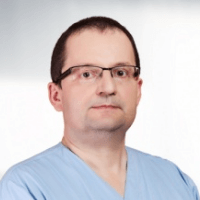 Dr. med. DDS, PhD
Andrzej Gala
Specialized in: dentistry, dental surgery
About the Department of Dentistry and Dental Surgery at Dental Clinic Indexmedica Krakow
The Department of Dentistry and Dental Surgery at the Dental Clinic Indexmedica under the lead of Andrzej Gala DDS (leading dentist, prosthodontist) offers the entire range of modern dentistry – from diagnostics and prophylaxis, conservative and pediatric dentistry to surgery, prosthetics and implantology. It naturally attracts a great deal of attention to the esthetic aspect so that, after the treatment, your smile will meet (and even exceed!) all expectations.
In particular, the Department specializes in treatment with implants. The advantages of implant treatment are obvious: minimization of the bone loss, anti-aging effect, improvement of self-confidence and quality of life in general. The implantation is performed on an outpatient basis under local anesthesia. The Dental Clinic Indexmedica is accredited by the most significant implant manufacturers (for instance, Nobel Biocare, Biomet 3i, DIO® and IMTEC-3M®). Surgical interventions as well as all tools and materials for the implant prosthetic treatment meet the highest standards. All patients of the Clinic receive a warranty card, which is recognized throughout the world, and, in an emergency, can receive medical services in all authorized clinics. In addition, all surgical interventions are carried out absolutely painless!
The specialists of the Department have an exceptional expertise in the field of bone augmentation and can use the latest possibilities of the surgical correction and controlled bone regeneration. On a regular basis, the medical team of the Department eliminates various bone defects of the alveolar process because of e.g. a tooth extraction carried out long ago which is crucial for your smile esthetics.
Another focus within the surgical treatment is on the endodontic microsurgery. In case the endodontic treatment is not sufficient or as an additional treatment option, the medical team of the Department carries out microsurgical interventions, for instance, resection of tooth roots with the aid of sonography, retrograde root canal filling with modern bio-materials as well as elimination of bone defects by using artificial bone tissue.
Apart from that, the Department offers comprehensive care for patients with gum and tooth root diseases, a broad range of prosthetic treatment options with both classic (metal, gold or titanium + porcelain) and esthetic materials (composite + fiberglass, purely conventional porcelain or porcelain reinforced with zironium-oxide). The range is supplemented by pediatric dentistry as well as a vast variety of esthetic treatment options including tooth bleaching, full ceramic veneers, crowns, inlays and bridges as well as esthetic composite fillings.
Main focuses of the Department of Dentistry and Dental Surgery:
Prophylaxis
Diagnostics
Tooth-bleaching
Anesthetics
Conservative dentistry
Pediatric dentistry
Prosthetics
Gum diseases
Surgery (bone tissue augmentation, painless tooth extraction, extraction of retained tooth roots, plastic interventions on tongue/labial frenulum, endodontic microsurgery)
Implantology
Aesthetic dentistry
Photo of the doctor: (c) IndexMedica
Department of Dentistry and Dental Surgery.
Dental Clinic Indexmedica Krakow:

Request more information now.
We will be happy to answer all your questions.
---
Certificates