Hospital St. Elisabeth Grevenbroich
Department of General, Abdominal, Vascular Surgery and Traumatology (

300553

)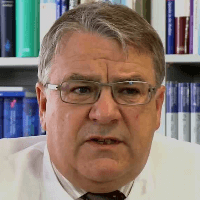 Prof. Dr. med.
Lothar Köhler
Specialized in: general, abdominal, vascular surgery, traumatology
About the Department of General, Abdominal, Vascular Surgery and Traumatology at Hospital St. Elisabeth Grevenbroich
The Department of General, Abdominal, Vascular Surgery and Traumatology at the Hospital St. Elisabeth Grevenbroich offers the full range of surgical options in these fields. The specialization includes both minor outpatient interventions and complex operations. Of particular interest is surgery of the gastrointestinal tract, abdominal cavity and endocrine glands in case of benign and malignant diseases. The ​​competence also includes emergency surgery for the treatment of injuries of all degrees of severity, with the exception of severe traumatic brain injuries. The department's surgeons prefer minimally invasive interventions, which cause less pain, minimal risk of postoperative complications and rapid recovery of the patient.
The department's doctors have a wide range of surgical methods in the field of general and abdominal surgery. The interventions are mostly performed using laparoscopic techniques. These sparing techniques are also used in complex operations on such abdominal organs as the stomach, colon or thorax. The special focus in the department is on the treatment of benign and malignant intestinal tumors. The department's doctors treat patients with bowel cancer in accordance with the very latest scientific recommendations and technological advances.
Along with the treatment of malignant bowel tumors, the department's specialists deal with the treatment of esophageal, stomach, pancreatic and liver cancers. The installation of port systems for the medical treatment of malignant tumors is also carried out here. The patients with inflammatory bowel disease (Crohn's disease, ulcerative colitis) receive treatment, which meets all relevant recommendations, in collaboration with gastroenterologists. In this case, the preference is also given to minimally invasive surgical techniques.
The department's doctors often have to deal with surgical treatment of anterior abdominal wall hernias and inguinal hernias. Hernia repair surgery can be performed both on an outpatient and inpatient basis. The standard methods are the implantation of an artificial mesh to strengthen the anterior abdominal wall or inguinal region.
The department's service range is complemented by endocrine surgery, which deals with the interventions on the thyroid gland, parathyroid glands and adrenal glands. When performing thyroid surgery, the surgeons use state-of-the-art intraoperative neurophysiological methods to monitor the condition of the recurrent nerve (nerve that is associated with vocal cord functioning). When treating morbid obesity, the doctors use special surgical methods, including sleeve gastroplasty and gastric bypass surgery.
The department's vascular surgeons specialize in interventions on the abdominal aorta and its branches below the renal arteries. The department's team also performs interventions to treat carotid artery stenosis, which aim to prevent stroke. The department's service range also includes conservative and surgical treatments for circulatory disorders of the lower limbs, especially in smokers and patients with diabetes mellitus.
The key areas of the department's clinical practice include:
General and abdominal surgery

Esophageal surgery
Gallbladder and bile duct surgery
Liver and pancreatic surgery
Surgery for proctological diseases, including fecal incontinence
Minimally invasive interventions for inguinal hernias, appendicitis, minimally invasive surgery on the gallbladder, colon, stomach and esophagus, adrenal glands, spleen, partial lung removal
Hernia repair surgery (with and without mesh implantation)
Obesity surgery (sleeve gastroplasty, gastric bypass surgery)
Thyroid and parathyroid surgery
Lung surgery for benign and malignant diseases
Surgical removal of metastases
Placement of port systems for chemotherapy

Vascular surgery

Carotid, abdominal, pelvic, and lower limb surgery
Bypass grafting for vein thrombosis
Formation of vascular shunts for dialysis
Balloon dilatation and stent implantation
Local thrombolysis (lysis)
Modern methods of surgical treatment of venous pathologies (for example, varicose veins)

Traumatology

Polytrauma treatment
Thoracic and abdominal injuries
Injuries to bones, ligaments, tendons, joints of limbs
Hip and pelvic injuries (for example, femur neck fractures)
Hand injuries
Arthroscopy (for example, cruciate ligament, meniscus)
Treatment of septic complication (for example, osteomyelitis)
Spinal interventions (for example, kyphoplasty)

Other therapeutic options
Curriculum vitae of Prof. Dr. med. Lothar Köhler
Medical Education
1977 - 1983 Medical studies at the University of Cologne.
1984 Doctoral thesis defense, Institute of Normal and Pathological Physiology, University of Cologne, Department of Applied Physiology.
1996 Assistant Professorship in Surgery at the Faculty of Medicine of the University of Cologne
2001 Extraordinary Professorship at the University of Cologne.
Professional Career
1984 - 1989 Assistant Physician of the Department of Surgery II at the University Hospital Cologne.
1989 - 1990 Internship abroad in Mayo Clinic, Rochester, Minnesota, USA.
1990 - 1994 Assistant Physician of the Department of Surgery II at the University Hospital Cologne.
1995 - 1999 Senior Physician of the Department of Surgery II at the University Hospital Cologne.
Since 1999 Chief Physician of the Department of General, Abdominal, Vascular Surgery and Traumatology at the Hospital St. Elisabeth Grevenbroich.
Since 2006 Deputy director responsible for medical issues.
Qualifications
1992 Board certification in Surgery.
1994 Additional specialization in Traumatology.
1997 Basic specialization in Abdominal Surgery.
1999 Traumatologist (Trauma Surgeon) specializing in accidents on the way to work.
2004 Advanced training in Minimally Invasive Surgery (Camic, DGVC).
2007 Special Traumatology.
2012 Special Abdominal Surgery.
Rights to Raise Qualification/Further Training
Basic training in Surgery, 24 months.
Abdominal Surgery, 48 months.
Special Abdominal Surgery, 30 months.
Membership in Professional Societies
German Society of Surgery.
German Society for General and Visceral Surgery.
Lower Rhine-Westphalia Association of Surgeons.
Cologne Surgical Association.
German Hernia Society.
Professional Union of Surgeons.
Convent of Leading Hospital Surgeons.
European Association for Endoscopic Surgery (E.A.E.S.).
International Federation for the Surgery of Obesity and Metabolic Disorders (IFSO).
Mayo Clinic Alumni Association.
Member of the Working Group on Quality Assurance in Surgery/Orthopedics in North Rhine-Westphalia.
Work as a Visiting Surgeon
Milan, Italy.
Birmingham, England.
Mayo Clinic, USA.
San Antonio, USA.
Maastricht, Netherlands.
Basingstoke, England.
San Francisco, USA.
Verona, Italy.
Horgen, Switzerland.
Strasbourg, France.
Area of Interest and Main Areas of Specialization
Endoscopic, minimally invasive surgical techniques.
Colorectal surgery.
Inflammatory bowel disease.
Quality of life of patients after gastroenterological surgery.
Obesity surgery.
Traumatology.
Publications and Reports
153 publications in national and international journals and books.
148 scientific reports at national and international congresses.
Photo of the doctor: (c) Rheinland Klinikum Grevenbroich Elisabethkrankenhaus
Department of General, Abdominal, Vascular Surgery and Traumatology.
Hospital St. Elisabeth Grevenbroich:

Request more information now.
We will be happy to answer all your questions.
---
Certificates