DKD HELIOS Clinic Wiesbaden
Department of Hematology and Oncology (

114081

)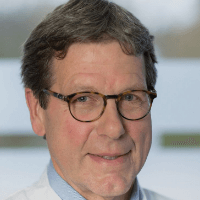 Dr. med.
Klaus Maria Josten
Specialized in: hematology, oncology
About the department
The Department of Hematology and Oncology at the DKD HELIOS Clinic Wiesbaden offers treatment of the whole spectrum of cancers and blood diseases. The department specializes in the treatment of leukemia, myelodysplastic syndrome, primary and secondary myelofibrosis and other oncological diseases. The department offers hematopoietic cell transplantation for the patients with malignant diseases of blood, lymph nodes and bone marrow, as well as with severe forms of aplastic anemia. The Chief Physician of the department is Dr. med. Klaus Maria Josten.
The department is the recognized Transplant Center. It successfully performs stem cell transplantation, including autologous, allogeneic transplantation from a related and unrelated donor. The department also offers competent treatment and care before and after transplantation. Extensive knowledge in the field of possible complications and specialized follow-up treatment contribute to the long-term success of transplantation.
The service range of the department includes the following options:
Outpatient diagnostics and treatment of cancers and blood diseases
Outpatient infusion therapy: chemotherapy, antibody therapy, immunotherapy, hormone therapy
Transfusion of blood substitutes
Bone marrow, pleural puncture: ascitic and cerebrospinal fluid testing
Ultrasound examinations
Interdisciplinary coordination and care for cancer patients
Dispensary observation of cancer patients
Second opinion, counseling
Counseling of cancer patients on nutrition
Interdisciplinary tumor boards
Participation in clinical trials
And other diagnostic and therapeutic options
Photo of the doctor: (c) DKD Helios Klinik Wiesbaden
Department of Hematology and Oncology.
DKD HELIOS Clinic Wiesbaden:

Request more information now.
We will be happy to answer all your questions.
---